Chadema volunteers charged with publishing wrong results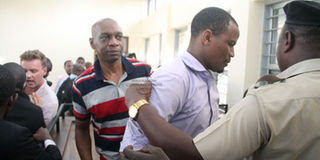 What you need to know:
They are being remanded until October 30 when the court will rule on bail application

The accused, including three foreigners, were arrested on Sunday at different Chadema tallying centres in the city

Dar es Salaam. Eight communication volunteers with the main opposition Chadema were yesterday charged with publishing inaccurate presidential election results.
The accused, including three foreigners, were arrested on Sunday night at different Chadema tallying centres in Dar es Salaam.
The accused are Mashinda Edwin Mtei, Julius Mwita, Frederick Eddie Fussi, Julius Mwonga Matei, Meshack Carlos Mlawa, Anisa Nicholas Rulanyaga, Jose Mavinga Nimi and Kim Hyunwook.
Before the Kisutu Resident Magistrate Respicius Mwijage, the accused denied the charges.
They were remanded until October 30 when the court will rule on the certificate filed by the Director of Public Prosecutions to object the accused's bail.
State Attorney Edwin Kakolaki assisted by Kishenyi Mutalemwa and Wankyo Simon alleged that, the accused committed the offence contrary to Section 16 of the Cybercrime Act Number 14 of 2015 and Section 16(1) and  31(1)(m) of the Immigration Act Cap 54 Revised Edition 2002 as amended by Act Number 8 of 2015.
The prosecution alleged that between October 25 and 26, 2015 in the city, the accused published false presidential results on Facebook, Twitter and an online National Election Management System titled "M4C Election Results Management System".
According to prosecution, the accused published inaccurate and unverified data on the presidential election with the intent of misleading the public on the ongoing release of the election results by the National Electoral Commission.
The prosecution alleged in the second count facing three foreigners, Matei, Nimi and Hyunwook, that the accused being a Kenyan, Angolan and Korean respectively, were found at King D Hotel in Kinondoni, collection and publishing presidential results without valid work permit. Matei was also separately charged with enganging in business without permit. Prosecution alleged that, On October 26 this year within the city, the accused engaged in business activities for and on behalf of WANAMA Saccos without permit.
After reading the charges, the prosecutor told the court that investigation into the case is completed.
He also produced a certificate from the DPP to object bail to the accused for public interest.
However, advocate for the accused Peter Kibatala objected the certificate on the grounds the certificate has legal errors.
According to Kibatala, the certificate has no stamp to show that it was received by the court and also it does not demonstrate the said public interest as alleged by prosecution.
Meanwhile, police yesterday released 183 Chadema officials who were arrested on Monday night for allegedly interfering duties of NEC by publishing unofficial presidential results online. A total of 191 Chadema volunteers were arrested on Monday nights after police raided three election tallying centers and walked away with their computers and other equipment.