Farmers strike gold with vanilla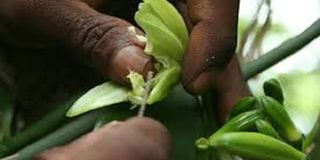 What you need to know:
Though vanilla cultivation farmer Loveness Ndeshau has constructed a modern house, bought a car and sent her children to private English medium schools.
Dar es Salaam. Vanilla farming is less popular in Tanzania but farmers from regions like Kagera, Morogoro and Kilimanjaro have struck gold in its cultivation.
Dried vanilla beans are used in food, beverages and fragrances are sold at between Sh10,000 and Sh15,000 a kilo.
Companies such as Natural Extractive Industries (NEI) have been buying vanilla beans and processing them for exports.
The Arusha-based company has been working with more the 1,200 vanilla farmers in Moshi.
Ms Loveness Ndeshau, who started growing vanilla in 2000, has found the crop profitable.
She urges the Ministry of Agriculture, Livestock Development as well as that of Industry, Trade and Investment to ensure vanilla cultivation and produce marketing are stressed.
World's largest vanilla-growing countries are Indonesia, Mexico, Madagascar, the Comoros and Uganda, according to the 2013 worldatlas.com article.
Ms Ndeshau believes Tanzania can earn billions of dollars if the government promotes vanilla cultivation and invests adequately.
Ms Ndeshau was motivated to grow vanilla after reading a book titled 'Lima Vanilla Upate Mafanikio (Grow Vanilla to Succeed)', which she says its cover has pictures of money.
"Being a Mchagga, when I saw money on the cover I was attracted to read it. The book contains guidelines about vanilla farming and how one can become rich."
She planted 50 vanilla seedlings. Now the number has increased to  2,800. It takes up to three years for the plant to start producing beans.
Ms Ndeshau got her first harvest in 2003. That encouraged her to cultivate more vanilla. Though vanilla cultivation, she has constructed a modern house, bought a car and sent her two children to private English medium schools.
Her fellow villagers have taken to vanilla cultivation. Some 400 Uswaa and Mamba villagers in Moshi now grow the crop.
 "When I depended on maize and bananas my first son had to go to a public school.  But his two siblings are in private schools. Vanilla farming has also encouraged me to increase efforts in cultivating other crops. I have realised that when you work hard and follow instructions agriculture pays off." One of her sons also farms vanilla earns good money. "I train my children to cultivate the crop when they grow up," she said.
 She has realised that demand for vanilla beans is higher than supply. So she trains her fellow villagers to grow the crop.
However, training fellow farmers is challenging since most of them are scattered. "But I have to do it. Through training others I also learn."
Since vanilla thrives under shade and in high humidity, serious problems are encountered during the dry season.
According to Mr Silas Noah, one of NEI shareholders, since middlemen are no longer involved in vanilla beans buying, farmers have been benefiting from their produce.
NEI has also been training farmers on vanilla cultivation. "Women groups have been formed and trained on vanilla farming."
He calls on extension officers to serve farmers diligently to increase agriculture production and productivity and link producers with buyers locally and internationally.