Birth control: The lingering question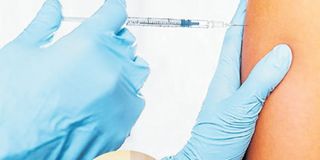 There are three things that Vicky Joseph likes about injectable contraceptives (Depo-Provera). First, she uses them secretly without her husband knowing. Secondly, she thinks they are easy to use because at this time where she doesn't need babies, she stays up to three months without worrying about conceiving. Thirdly she believes that birth control makes her fat, and thus beautiful.
Vicky is a mother of a six-month old boy. She plans to have the next child when her son turns five years old.
However, the 18-year-old housewife's views on contraceptives collide with those of her husband, who not only believes that family planning is sinful, according to his religion, but also dangerous to the mother's health.
"We always end up in a fight whenever we have the 'birth control talk'. Without using family planning I could have been pregnant right now. It is my responsibility to plan the number of children because I have little support from my husband," she says.
While her husband's concerns have their roots in his religion, faith in contraceptives among many Tanzanian families seems to be falling due to a plethora of controversies that surround some artificial birth control measures.
Aika Mbaga, a former user of Depo-Provera (depo), quit because she started experiencing side effects that she couldn't take.
"Without doubt using injectables helped me plan the number of babies I want, but I was experiencing headaches, nausea so much that I had to switch to the calendar method," she says.
Apparently, modern family planning techniques are still misunderstood and unacceptable among a significant number of Tanzanian men and women, despite efforts to increase their accessibility over the years.
In 2012, speaking at an international summit on family planning in London, then-President Jakaya Kikwete said Tanzania needed Sh140 billion to reach over 3.2 million women with contraceptives in the three years to 2015.
He also said while there was concrete evidence that 20 to 35 per cent of maternal and infant deaths could be avoided through family planning initiatives. The major challenges the country was facing included inadequate resources, cultural and religious limitations.
Contraceptive prevalence in Tanzania, that is the percentage of women ages 15-49 using contraceptives was reported at 38.4 per cent in 2016, according to the World Bank's collection of development indicators, compiled from officially recognised sources.
Studies have shown that among the factors limiting contraceptive prevalence in Tanzania include widespread misconceptions and concerns about side-effects, low acceptance of long-acting methods, erratic supplies and a limited range of choices, gaps in provider knowledge and skills (along with provider bias), and competing priorities pursuing scarce resources.
Grace Bakari, a public health nurse in Dar es Salaam, previously told this paper that of the two modern family planning methods, hormonal and non-hormonal, most Tanzanian women prefer the former.
Hormonal methods commonly used by women include pills, depo-provera (injectable) and implanon. Non-hormonal methods include condoms and intrauterine device (loop).
"From my experience, I meet many women who come to ask for depo only without showing any interest in learning about other options. But we teach them about the range of methods available, and in the process explain the side effects," she said.
But Grace quickly pointed out that in most cases, women who prefer depo-provera are the less educated, who want to gain weight.
"Those who are educated, and young, mostly prefer the loop method. I believe it's because of the weight issue," she says.
While health experts like Grace assure that modern family planning methods are safe, for many years there have been controversies surrounding birth control.
Various studies have shown that contraceptives like depo have deadly side effects on women, such as increasing likelihood of breast cancer among young women who use it, and increasing the risk of cervical cancer.
Other side effects include loss of bone mass, heavy and prolonged menstrual bleeding, weight gain and difficulty in getting pregnant for those women who stop using it.
And among the controversial findings in a 1994 study of depo users in the US, were these facts: 33 per cent were under the age of 19, 84 per cent were black women, and 74 per cent were low income earners.
Not only that. When it comes to other methods, like the pill, new research suggests newer birth control pills may lead to a greater risk for dangerous blood clots.
But despite these findings, health experts maintain that contraceptives are safe.
"In our case, there are many women who have cervical cancer but they do not have a history of using depo. The major cause is the human papillomavirus (HPV)," a specialist at the Ocean Road Cancer Research Institute (ORCI) in Dar es Salaam said in a previous interview with The Citizen on Sunday.
He, however, admitted that there is 'too much' controversy surrounding artificial contraceptives, and the various studies
conducted over the years have not helped resolve anything.
For example, "Some studies show that depo increases one's chances of getting cervical cancer while others say it decreases the likelihood. It's a controversial issue, partly because studies are done among only a certain group of women in a certain place. What I can say is that there is a slight increase in the likelihood of cervical cancer among women who use it."
Doctors hiding something?
But still, when it comes to disseminating information about family planning methods, some women claim that health service providers say more about the positive than the negative.
A woman like Vicky Joseph, who is a proud user of depo, is unaware of the adverse side effects of the contraceptives. "I was told about the side effects but they were not that much scary. They talked about headaches and nausea, and I have never experienced that," she says.
A doctor at Mwananyamala hospital who preferred anonymity, says family planning service providers are supposed to give full and correct information about the available family planning choices.
"Like many other medicines, family planning methods have side-effects. The client must have a chance to weigh," he says.
Mayo Clinic, a US-based non-profit academic medical centre writes on its website that there are things to consider about Depo-Provera. One, is the fact that after stopping Depo-Provera, it might take 10 months or more before you begin ovulating again. If you want to become pregnant in the next year or so, they say Depo-Provera might not be the right birth control method for you.
Another thing to consider is the fact that it might affect bone mineral density. "Research has suggested that Depo-Provera and Depo-SubQ Provera 104 might cause a loss of bone mineral density. This loss might be especially concerning in teens who haven't reached their peak bone mass. And it's not clear whether this loss is reversible."
Because of this, the US Food and Drug Administration added strong warnings to the injection packaging cautioning that Depo-Provera and Depo-SubQ Provera 104 shouldn't be used for longer than two years. The warning also states that using these products might increase the risk of osteoporosis and bone fractures later in life.
If you have other risk factors for osteoporosis, such as a family history of bone loss and certain eating disorders, it's a good idea to discuss the potential risks and benefits of this form of contraception with your doctor, as well as learn about other contraceptive options, they suggest.
Other side effects of Depo-Provera usually decrease or stop within the first few months. They might include abdominal pain, bloating, decreased interest in sex, depression, dizziness and headaches.