After the ban, what next for varsities?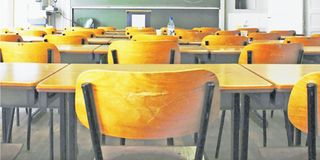 Summary
The commission also stopped the admission of students to 75 Bachelors degree programmes in this academic year from 22 universities and colleges, including the Universities of Dar es Salaam and Dodoma. The announcement which also highlighted several shortcomings in some of the varsities came at a time when university enrolment were about to start hence left thousands of students in confusion .
Last week, 19 colleges and universities including two Kenyan and Ugandan varsities whose campuses are located in Arusha and Dar es Salaam were banned by Tanzania Commission for Universities (TCU) from enrolling new students to any degree courses during the 2017/18 academic year. This was after a report blacklisted them for providing poor quality education. The commission also stopped the admission of students to 75 Bachelors degree programmes in this academic year from 22 universities and colleges, including the Universities of Dar es Salaam and Dodoma. The announcement which also highlighted several shortcomings in some of the varsities came at a time when university enrolment were about to start hence left thousands of students in confusion .
Nearly 33,000 candidates who sat their Form Six national examination in 2017 scored first and second division to qualify for direct entry into the university. Over 20,000 others with division three and below are also expected to seek for enrolment in colleges for training that correspond with their scores. According to the TCU acting executive secretary, Prof Eliuther Mwageni all institutions with flaws were given 14 days to correct and submit their reports to the commission for further review and that feedback was circulated to all colleges by July 1, this year. TCU decision doesn't come as a shock to some universities since they usually conduct an evaluation of universities annually, scrutinise their systems and programmes offered to ensure the quality of courses offered.
In 2016, TCU banned two universities from admitting new students in the 2016/17 academic year for violating regulations. The affected institutes were St Joseph University of Science and Technology and International Medical and Technological University (IMTU).
The two universities were reportedly barred from admitting new students because it had no permanent buildings. According to TCU, the law requires higher learning institutions to have a good and conducive environment for students.
They were required to have permanent buildings and facilities such as laboratories in addition to having qualified lecturers. Earlier on the same year, TCU blacklisted some St Joseph University of Science and Technology campuses in Songea in Ruvuma Region from undertaking academic businesses for failing to meet required standards set by the commission.
The move affected 2,046 students who were transferred to other institutions in the country that offer same courses and no new enrolment were permitted at the two universities until TCU was satisfied that all shortcomings were fully addressed, however, students who had already been enrolled continued with their studies.
The TCU decision raises the issue of the quality of our universities and what can be done to ensure that these universities maintain the requirement by the authorities so as to offer the best education.
Thadeus Lekule, a lecturer from Tumaini University Makumira says there is no college or university that would be allowed to operate without meeting stipulated requirement. According to him most private institutions operating cost are high compared to public universities therefore even how they run their activities depend on the number of students they get.
Explaining if the fees paid by students is enough to cover the running costs incurred by the colleges and universities, he said the amount set by most universities can be afforded by many students and when it come to the quality offered by universities it depends on many factors because there are some colleges which are expensive but still they offer ordinary courses or even below the standard compared to those who charge the minimum fees and offer the best quality.
"The case can be different for private institutions, compared to public universities which depend on subsidies hence they can afford easily to run their activities. Most of them don't depend on fees to run their business some they have projects and even sponsors who support them,' he explains.
He advices the government not to forget that most of the private universities have been there for long to offer higher education and that our higher education have been highly supported and run by private and religious institutions therefore it should work with them closely to ensure that they offer the best service.
"Shutting down these universities at a time when students have already enrolled and paid their fees without giving them a warning at first is discouraging, even government has employed people who have attended these private institutions that shows how important there private institutions are.
The government can find a way to help private universities for instance in building laboratories or other facilities, he noted.
Lessons from abroad James Gachuki,Middlesex University East Africa region manager based in Kenya says there are few things that our local universities and colleges can learn however not everything that is practiced abroad can be relevant here because of our system.
"The system most universities and colleges have in foreign countries in particular UK are specifically designed for their market. Universities here in Tanzania are controlled and regulated by TCU and they know the problems associated with the education system back here and so even the regulations is within this particular system. 'Am not saying the British system for instance is better than our education system and therefore we should scrap it off; no, this system in Tanzania is tailor made for this market and there are some thing's done in UK which cannot work here.
He says one thing that most colleges and universities abroad have successfully achieved making the quality of their education stand out is because they do a lot of research especially on the courses they run.
'The problem we have in most of African universities is that they run programs just for the sake of it. So you will find programs which have not been reviewed for years which were there ten to fifteen years ago are still being run probably not relevant to the market."
'However, the case is different for colleges and universities abroad since they do a lot of job and market research that's why you will find a program lasting for a few years.
If it's not relevant to the job market, they take it off, do their market survey and identify programs which are relevant to the job market," explains Gachuki. He noted that since most of African colleges and universities don't do such researches they end up having graduates with degrees which cannot bring value in the job market because they are obsolete, they have been overtaken by events.
That's why for majority of students who study here in the country, it is important for TCU and respective universities boards to embrace market intelligence and understand the job market, for example Tanzania is well known for mining then perhaps they should have more programs in line with those particular job market and also try to understand which gaps are there in the job market.
On his part, Abdulmalik Mollel, managing director of Global Education Link which is an overseas educations agency says our local colleges and universities don't have problem with quality of education except the previous admission system.
He says the system that was being used by TCU was of help to students since it made it easy for them thus reduced the pressure of finding universities , however the same system made some universities inactive, making them feel that everything is easy. "Anywhere you want to see an improvement then there must be competition because it brings efficiency demand and time frame in deliverance of service, quality and innovation.
Community needs to be offered with quality service providers so that they can choose the best they can get and afford and so if you cannot compete then nobody would come to your university.
Education is business and is not for free, therefore universities and colleges need to follow the ethics and other business procedures,' he said.
He also stated that public universities need to be competitive enough so that they can survive for many years and offer quality education even if they get subsidies from the government.
With competition, everything come along including quality and facilities.
"I applaud the initiative taken by the government, this has opened a room for universities to compete and I am sure come next year things will be different. Every institution would ensure that they offer the best education. No one will want their college or university to be close down so they will improve their services,' he says.
He says most colleges abroad offer quality service because of technology and competition so what we are going through would improve our education in the near future.