How,unemployment,affecting,education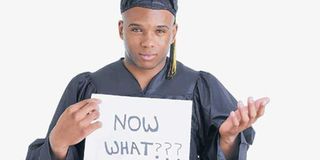 What you need to know:
Thousands of graduates who graduate from various universities in the country enter the job market each year. But disappointingly, most of them end up unemployed where as many fail to do what they were trained at their institutions.

The high level of unemployment in the country has affected the education sector in many ways. From graduates having to settle with jobs that are out of their professional qualifications, to students juggling between work and studies just to get ahead of hard times that await them after graduation, all these are consequences of an unreliable job market.
Thousands of graduates who graduate from various universities in the country enter the job market each year. But disappointingly, most of them end up unemployed where as many fail to do what they were trained at their institutions.
Mr Jonas Kaguo, who graduated with a Diploma in clinical medicine from Kampala International University Dar-es-salaam campus had to settle with selling clinical equipment after facing a tough time searching for a job in the medical field. "It has been a year since I graduated, I thought securing a job would be easy since I went for a marketable course, he said, adding, "I went to an office and I was asked if I had experience of three or more years. I failed to meet such requirement and thus did not get the job," he narrates.
A network marketing dealer, Mr Wilson Kowero, said that many scholars find themselves doing things they never studied for. "I feel like I wasted time in school, all the years I spent, money and a lot of effort but at the end I found myself doomed, doing things I never studied for," said Kowero.
He further added that he has many friends "who studied law, human resources management and many other fields but none is doing what he/she studied for."
Unemployment is now posing a risk to aspiring graduates and prospective employees. Because of the uncertainty in the job market, many students are now venturing into side businesses to earn some decent living. They also do this to gain stability after graduation since jobs have become scarce. This, in the long run, has affected their education.
Such is the story of Mr Brighton Minja who is pursuing a Bachelors Degree in Information System Management at Ardhi University Dar-es-salaam.
He decided to venture into photography to meet some of his demands where apart from having good support from his family, he still earns money through his work and he is sure to survive any eventuality in the job market after graduation with this backup plan.
"I am proud of myself, at least I earn something from the work I do and it doesn't affect my academic life," he said.
The risk to his academic advancement is less according to him.
Many graduates who studied professional courses such as education, medicine, law, human resource, among others, end up in entrepreneurship.
Even those absorbed in the employment market complain of salaries that fail to reach their demands. It is for such reasons that some find it prudent to venture into different business activities while also studying.
This sentiment is shared by Mr Mathias Banzi, a student at Tanzania Institute of Accountancy (TIA)
"I have guardians and siblings and they all look up to me. At times I am overwhelmed with many expenses," he says.
Banzi is both student and businessman who sells male and female apparels. Due to tight schedules, balancing work and studies has become difficult.
The government and private institutions have tried their level best to emphasize to the youth to venture into self-employment.
According to Minja, things became more critical in 2016 where terms and conditions for one to secure a loan for their higher learning education were tightened.
The changes became vastly different in comparison to the previous administration since many scholars were offered loans.
"Students now fully depend on their families and sponsors for their education and accommodation expenses. This has caused many students to engage in more than one activity, that is to say education is not the main thing they do," Minja commented.
Another student from TIA Rachel Omary shared her story with Success saying that she is a student, a model and an ambassador at Maisha basement.
She is influenced to do modelling because it is a hobby to her and though her family doesn't support her 100 per cent with what she is doing, she still holds on to what she believes will hold her up after graduating.
"What I believe in is that working hard will take me somewhere. I have many things to do so as to be a great model," she said.
But as these scholars do extra activities for a positive outlook out on the future, there are setbacks that arise and in one way interfere with their academic endeavours.
According to Ms Omary, extra activities haven't had a negative effect on her academic progress.
There are some who face various challenges but according to Mr Thomas Faraja who also juggles different activities to make ends meet, states that; "Sometimes I miss classes or not get to class on time, depending on my work schedule. I might have sessions to attend and at the same time I have classes."
Having extra activities to do so as to secure a better future for yourself due to the uncertainty of the job market once one graduates has led to a disruption of academic performance.
But despite the challenges, most students are able to find success in other ventures.
On the other hand, there are students, who despite of high unemployment rate in the country, do not engage in other ventures, but instead focus solely on attaining their degree.
Among such people is Mr Christian Kulwa, who is pursuing a degree in political science and public administration at the University of Dar es Salaam (UDSM).
Mr Kulwa said he is not in a hurry, for there is time for everything and the moment for his employment will come.
"Right now my focus is on studying and preparing for life after graduating. People say there are no employment opportunities, but I know employment is there for those with undeterred commitment," Kulwa says.
When Success contacted a lecturer at UDSM, he had various things to say in relation to the matter.
Mr Faraja Kristhomus, a lecturer at UDSM teaching Foreign language and linguistic studies is of the view that students who engage in doing multiple things at the same time while pursuing studies could find it hard to perform well in class.
"A student can be affected academically if he/she engages in work and school at the same time. One may miss classes, handouts and assignments given by their lecturers if he/she fails to attend lectures," he notes, adding that most lecturers use lecture time to get to know their students better and find different ways to help them academically.
He also went further saying that our education system doesn't favour a student to work and study at the same time unlike systems adopted in developed countries, which allow one to work and study without affecting their academic progress.
There are some universities that offer evening classes which accord time to those working to be able to have opportunity to study as well.
However, such evening classes have some drawbacks. Kopweh Kahigi, a former student at Tumaini University Dar es Salaam College (TUDARCo) says that during his pursuit for a degree, he often found it hard coping with lessons even though he took evening classes at his campus.
"Those who studied during the day had enough time to interact with lecturers and have a deeper understanding of different academic matters. Unfortunately for us who took evening lessons, time wasn't on our side and so we grasped what we could," he says.
Alphonce Dennis, a student at TUDARCo who would be happy to have a job to do while studying had this to share with Success; "I have searched for a job to do while studying, and if I manage to secure one, I would definitely move to evening lessons."
Unemployment is brought about by many factors such as rise of technology and high numbers of graduates entering the job market each year. It's effects in the education sector is felt in different ways.
Mr Peter Mathias is a businessman based in Kariakoo. He suggests that one of the ways to curb unemployment, and also improve our education system, is through increased teaching of science and technology to students right from a tender age. Such a system will nurture students who are tech savvy and ready to move with changing times.
Unemployment Rate in Tanzania is expected to be 10.11 per cent by the end of this quarter, according to Trading Economics global macro models and analysis expectations.
In the long-term, the Tanzania unemployment Rate is projected to trend around 9.05 per cent in 2020, according to the same model.