When leadership comes at the cost of academics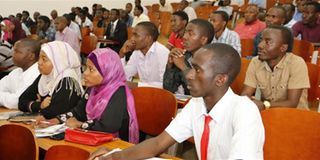 What you need to know:
While being a student leader comes with many benefits, there's no doubt you will run into a number of problems.
Landing a leadership position in In campus is a great resume booster as well as an awesome way to gain experience and develop new skills.
While being a student leader comes with many benefits, there's no doubt you will run into a number of problems.
The challenges can range from limited time, balancing the students' demands with the university's capacity to settle them, resists the pressures of national politics and balancing the leadership responsibilities and performing in studies. Almost all universities and colleges in the country has got a student organisation and the challenges shared by those who lead them are quite the same, they however, seem passionate and enthusiastic to deliver better in both academics and leadership.
Student organizations in the country's universities were established by the University Act 2005 under section 49 (1) which states:
"Every university shall…provide under its charter for … students' organisation of the institution to be known by such name as may be agreed by its members and approved by the Council … of the institution."
Despite the noble role they play, student leaders are not entitled to any right of academic favoritism from their universities thus many students are fearful of taking leadership position for fear of performing poorly in their studies.
Mr Stanislaus Peter is a chairperson of Tanzania Higher Learning Institutions Student Organisation (TAHLISO) and a motherboard of all student organizations confesses that the absence of the favoritism has made many people to kill their dreams on leadership since it is a task which requires full commitment.
He says that one of the challenges that a student leader faces is attending various decision meetings outside campus to represent the interests of their people.
"A student leader goes to these meetings without caring that studies are proceeding behind him or her, sometimes taking up to a week for meetings to finish," he says.
Despite what roles a student leader must deliver, Mr Peter says, there is no single university which does academic favour to them.
"There were some student leaders who were discontinued because of concentrating much on leadership roles, something that is really saddening since these people sacrificed themselves in order to do good both to their fellow students and the university," says Mr Peter adding that treating them as other students is completely unfair.
But that is not the case for Ms Zuhura Rashid, the president of Dar es Salaam Institute of Technology Students Organization saying that she sees no relationship between leadership and academic favoritism.
"It's not right to be favoured. In my university if you are busy with leadership responsibilities, for example, you can extend the deadline for assignment submission or you can move forward exams," she says.
Instead, what Ms Rashid finds as a challenge is making the best use of time since as a student leader apart from implementing your promises to your voters, you are still supposed to study hard in order to perform.
"But this too does not mean that the time is insufficient since a good leader is one who can even be given a three week period and delivers his or her promise."
Despite seeing the lack of academic favoritism as a challenge, Mr Nchimbi Livinus, the president of Dar es Salaam University Students Organization-Dar es Salaam University College of Education is concerned with the issue of legacy. Mr Livinus says that most student leaders serve a one year period which he asks, "Within that period of time, how can a person leave something for the greater good of a team, of an organization, or even a community and be remembered as a leader?"
Despite the fact that time is so limited to the extent that a leader may find it hard to keep all the promises he/she made to the voters, there is still an opportunity to do better if leaders themselves will decide to be proactive.
Mr Bruno Julian is the president of Dodoma University Students Organization who apart from concurring that the time is a challenge to him as it is to other leaders he decided to do something that helped him excel in his leadership.
"I decided to be a person of principles; I reduced almost all routines that do neither help me in leadership nor in studies," he says.
Mr Julian says that before he became a president, he was a keen fan of series movies to the extent that he used to spend more than six hours watching movies.
"Today, I'm totally a different person. If I can tell you it is now sixth month I never set my eye on any kind of movies. I stopped that behavior the first day when I was sworn in as president," he says.
Apart from time limitedness, something which makes most students leaders stressed for fear that they may not fulfill their kept promises, balancing the students' interests and wants with those of universities management's and their ability is another demanding task that most students leaders find themselves in.
"It happens a time where students want this and the university management is not able either administratively or financially or sometimes just uninterested and then you as a leader you find yourself in between making these two contrasting camps come together into a consensus," says Mr Livinus.
In a circumstance like that, Ms Rashid says, negotiation is the key so that a solution can be reached. She says that there are some students whose minds think only about strikes and protests.
"But I think if there is something a leader must avoid is to do something on pressure as you may at the end find yourself off track and instead of solving the problem you may make it worse."
Despite the fact that as a student leader you are required to stand with them, taking a position, Mr Julian says, is not a good option.
"I think during the time of difference between the students and university management, as a leader you should act as a mediator and not as agitator and that is what I normally do as a leader," he says.
Despite all the challenges that you might be facing in your student organisation, being a student leader may shape your life differently and upon handing over the reign of leadership you will become a very different person once you do few things.
Mr Peter says that they make sure that student leaders maintain the balance between leadership roles and their studies by advising them to pay attention to their studies. "In ensuring that happens, TAHLISO for example, has reduced the number of meetings in order to provide our people with more time to do their studies in order to maintain their academic standards," he says.
Mr Josiah Hezron is a Dean of Students at Dar es Salaam Institute of Technology who says that the college does not and cannot offer any academic favours to student leaders saying that leadership and academics are two different things.
"In the constitution which governs the student organisation's activities, including the qualities that a student must have in order to contest for a leadership position, is that he or she must have a good academic performance with less than 3.5 GPA," he says.
Mr Hezron says that by that qualification it is expected that a person will be able to balance the leadership roles and his or her studies but what they do as a university is to sensitise and remind student leaders on how they can best manage their time without losing focus.
"Once they have been elected as leaders, we normally do seminars with them and remind them that being a leader should not be a reason of poor performance in classes,"says Mr Hezron.
They also educate students that they should sometimes give rooms to their fellow student leaders to study.
Dr Josephine Tesha is a psychologist and independent consultant on wellness and growth who advises the student leaders to learn about prioritising.
"Priority is everything, they are supposed to be aware that despite the fact that they are leaders the primary purpose of being at a university is to graduate with good scores, this does not come easily but needs efforts which will be a result of prioritizing," he says.
Dr Tesha says that for student leaders to excel in both leadership and in academics, they must learn to talk to their superior like the former leaders, deans of students or parents who they can be free to open up their challenges and see how those people can help.
Because the University Act is silent about student leaders' favours, Mr Peter urges the government to do something to make sure that these people are given some kind of special treatment in order to be able to perform their duties well.
"The government had a good intention of establishing student organisations in the universities which included not only to make them as link between students and the university management but also to prepare the future national leaders," says Mr Peter.
Unless the government intervenes and makes the student leaders feel proud by being given special treatment, Mr Peter warns, "Students will be afraid to take up leadership positions in the universities and make the good government intention crippled."
Success sought a comment from the director of Higher Education at the Ministry of Education and Vocational Training, Prof Sylvia Temu if they had any plan of making changes in the present University Act 2005 to compel universities to treat with favours the student leaders but she could not pick up the phone when called.