Prime
University students share why they prefer dating older men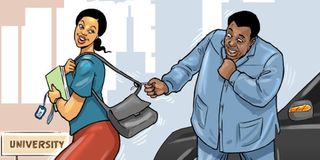 What you need to know:
Dating older partners is not reserved for women. Young men have also been known to cling to well-to-do women in exchange for sex.
It is a well-known trend that female university students are increasingly opting to date older, financially affluent men rather than their peers. More often than not, this dating choice has far-reaching ramifications for their overall lifestyles.
Mubaba, or "sponsor" in Kenyan lingo, refers to such men of means who angle flashy lifestyes to young women in exchange for sexual favours. The mubabas are almost always married men or people in high positions who, at the flick of a finger, will effortlessly offer a lifestyle beyond the wildest dreams of the young women.
Aisha*, a student at a college in Dodoma, whose mother works as a househelp and the father is a clerk who can ill afford to provide for his family, is caught in this cycle of poverty and is a typical example. She admits that she has a mubaba who even foots her university fees, besides financing her luxurious lifestyle.
"Apart from my boyfriend, I have one financially stable 43-year-old mubaba with a well-established career who takes care of my every whim. We have been in this relationship for over a year now," she says.
Aisha says that she uses contraceptives because she wouldn't want her boyfriend or her mother to know about it. "I date this man not because I love him but because of what he can give in return for sex promises," she adds.
She says that despite him showering her with gifts, she is careful not to give herself by simply not going to where he lives. She accepts the "support" out of pity for her mother, who has to work so hard to put food on the table.
Another 22-year-old university student says she indulges in drinking alcohol and clubbing, something that has seen her exam results deteriorate. Jane* retains a mubaba who happens to be a lecturer to avoid completely failing her exams. She confesses that she is the one who initiated the relationship by bluntly seducing him on advice from a friend.
"This lecturer is so protective that he does not want to see me associating with my male peers. I find myself in the company of other female friends than male friends." She says that being seen in the company of an older man is sometimes embarrassing and that she yearns for her freedom from the grip of an older man.
Her reputation among her peers at the university is always at risk.
Owing to the impending danger of contracting HIV/AIDS, allied STDs, or even getting pregnant, Jane says that she has always insisted on the use of protection.
Mary*, 22, a student in Iringa, says she has multiple men, two of whom are her university peers, and the rest are older men in politics and other professional echelons in the government.
"Each one of these men has specific roles in my life. One, a fellow student, ensures that my results are perfect, and the other, from the study loans we get, takes care of my other needs in exchange for a weekly sex escapade. My charcoal dealer boyfriend ensures that my mobile phone has endless airtime," she adds.
Mary admits that her sole purpose in milking the old men is that they do not complain and will go the extra mile to provide anything for her at all costs. She even owns a car. The mubabas foot her rent, meals, and general upkeep.
To Amina*, 25, it is the dream of every girl to own things because many of them do not have the means.
"I got into the habit of dating mubabas while a secondary school student in Dodoma. I needed cozy blankets and cardigans and enjoying myself whenever there was a visiting day.
I and a bunch of friends were experts at sneaking out of the school compound every Friday evening to meet our mubabas, who were always waiting for us in their fancy cars. They would drop us off at school on Sundays. They would also pay us visits during visiting days," she says.
An affair with her mubaba went on for some time because the man provided money and a calm disposition so long as Amina kept her part of the bargain. This ended when she did her "O" level exams.
Most of those interviewed said that they avoided their peers at the university because they most likely owned nothing and could exhibit fits of jealousy.
Dating older partners is not reserved for women. Young men have also been known to cling to well-to-do women in exchange for sex.
According to David*, a young man dating an older woman, the difficult part is the stigma attached to it or managing to keep her out of sight. He started dating a 40-year-old woman when he was barely 21 years old.
"Dating an older woman means that you are exclusively under her spell. It means that she literally "owns" you," he says.
David got entangled with the woman as he tried to become an artiste. The woman was a vocal coach. This is how he was enticed into dating. The relationship ultimately came to a dead end.
According to him, and at the peak of their relationship, the benefits accrued to him included music equipment, cash, and rent.
One mubaba who sought anonymity says these young girls are the best alternatives to their wives. They are naïve and will do anything for money.
"Young girls are pretty, gullible, and easy-to-pick fruits. They make us feel young, as opposed to wives who have crossed the age mark and are often too busy. My wife is not always near. I work in Dodoma, and my wife is in Dar es Salaam. The obvious choice automatically becomes one of those girls," he boasts.
He says that he still loves his wife, but these young girls can bring cathartic sexual relief.
Magolanga Shagembe, who is the president of the Association of Psychologists in Tanzania (TAPA) and an assistant lecturer in the Department of Psychology at the University of Dar es Salaam, says such relationships stem from peer pressure to live a certain kind of lifestyle along with the need for financial, material, and academic support.
"Peer pressure and vain imagination make these girls view it as a form of investment. One of the problems with this kind of dating is that men feel they own you spirit and soul.
The couple ends up not growing or loving each other as the relationship is anchored on material benefits," he says.
Bernadetha Antony, 54, a mother of three, explains that the reason most university girls fall for mubabas is that they do believe that older men have money while youth have no money.
"Girls firmly believe that older men are more established, and while it is unfortunate that older men take advantage of the girls' dire financial situations and appetite for expensive things, they throw all cares to the winds and decide to dance to the music," she says.
She explains further that would-be husbands shun these girls, terming them "used" and social misfits. She advises university girls to stay calm and concentrate on their studies.
Rajabu Banzi, 40, a businessman, says that the young men dating older women are those lazy, good-for-nothing youth who are always seeking get-rich-quick ways and can therefore not lift a finger to solve their own problems.