Watta-on-the-go: The millennial's guide to travel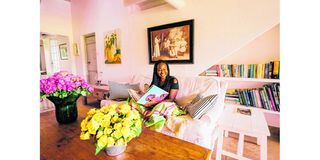 What you need to know:
We're posting influencing each other to travel and discover new destinations, and we're sharing tips and itineraries. The millennial tourist is spoilt for choice
For an introvert, the worst thing to happen would be a dead phone right at the beginning of an adventure-filled trip. Such was my lot in October when I was hosted by the Kenyan Tourism Board for the Magical Kenya Travel Expo (MKTE).
While at first this conundrum proved a thorn in my neck, a lot of good did come out of me not having a phone, the biggest being the fact that I had no choice but to talk to people and play nice.
It was also the makings of the beginning of a good friendship with Ms Wendy Watta who apparently until she'd tagged me on one of her Instagram story posts, I'd no idea was quite the celebrity influencer.
I remember a friend gushing in my inbox about how she totally admires her and she loves her travel content.
Wendy and I got to talking, when I wasn't convincing her to eat and have one more glass of bubbly, and she shared with me how much she loves to travel.
Wendy is a communications graduate who specialised in electronics and print media and has worked in various media houses serving as a journalist all the way to travel editor.
During the covid-19 outbreak, Wendy quit her official 9-5 and began her travel adventure.
"I now cover Africa for a lot of American and British travel magazines. Recently, I worked on a guidebook for Fodors Africa but I also do a lot of copywriting work for different hotels and lodges," she shared.
Being a good photographer and videographer, one of the things Wendy invested in, early in her journey, was a good camera; a Canon 6D Mark 2 with an 18 to 105 mm lens. This eventually helped boost the quality of the content she created.
"I then started posting photos and videos on social media, and my audience started to grow. I later got a Canon G7X Mark 2 which is great for vlogging, as well as a DJI drone, mostly because I enjoy creating content, and not necessarily because I wanted to be an influencer. So I put the horse before the cart, so to speak," she explained.
Wendy has since worked with many brands on her social media pages. Some of these include Safaricom, Whitecap lager, Jambojet Airline, World Remit as well as skin care company La Roche Posay. She has also collaborated with numerous hotels, lodges and resorts across Africa.
"Travel is my passion, and I enjoy being a freelance writer and digital content creator because it gives me the freedom to be a digital nomad. If I want to return to Zanzibar or go to Accra for a month to work from there, I have the flexibility to do that while still earning an income. I am also not married and have no kids hence less responsibilities than other people in their late 20s, though that might change in the future," she said.
Social media as a tourism tool
Wendy has found her niche in sharing her travel experiences on her social media pages.
While for some, being a social media influencer is a strategic decision which involves a lot of budgeting and working crazy schedules to create perfectly curated content, Wendy hopped onto this path for a myriad of reasons, the biggest being the love to create content and a need to have African stories told by Africans.
"For a long time, African stories were not being written by Africans, and that has drastically changed in the last few years, so it was great getting into it at that tipping point. As a writer, I am a storyteller at core and I do have a firm grasp of how to draw readers in. I believe I have transitioned that to my YouTube channel," she explained.
"I also enjoy creating social media content around unique accommodations such as tree houses and A frame cabins by doing tours and talking to the people who built them. I have also covered exciting adventures such as swimming on top of Devil's pool in Zambia, parasailing over Nungwi in Zanzibar, witnessing the Great Wildebeest Migration with female guides in Serengeti's Dunia Camp which has an all-female staff, going on a hot air balloon safari complete with a champagne breakfast, hiking the Mathews Range, and so much more."
"Having worked in media and with hospitality industry players as well as met and interviewed hundreds of people in the process, I have a good understanding of the industry and the B2B and B2C marketing process," she adds.
This expertise has eventually equipped her with the necessary skills she needed to turn travel and tourism into a profitable and impactful business.
The future of millennial tourism
The advice growing up was to save your money, work hard and travel when you retire. Saving money is definitely a practise we should all cultivate, but African millennials broke this mould and you'll see many on social media planning solo and group trips, whether that's joining an organised group road trip to Kikuletwa Hot Springs in Arusha or planning a girl's trip to Zanzibar.
We're posting online and influencing each other to travel, and discover new destinations, and we're sharing tips and itineraries.
Various influencers have gone on to start boutique travel companies where, having grown to like their travels, their audience books a group trip to a destination with them; so millennials are finding creative ways to monetize their platforms so they can make a living and still be able to travel, through that and even sponsorship deals.
According to Wendy, this has also led to the oversaturation of some destinations. "Places like Bali and Paris and the experiences they offer have been in the media for no longer being what they used to be, and everyone's crowding to take the same pictures in front of the Eiffel tower," she explains.
"Just look at all the travel expectations vs reality hashtags on Instagram and Tiktok. Some content is also so curated that it doesn't look authentic; for example, I'm never going to wear a long flowing robe on top of Mt Kilimanjaro. As a result, you get to a destination and it looks nothing like the pictures that you saw posted on Instagram, but then that type of content appeals to some audiences which eventually comes down to what you like to see," says Wendy.
As the youth, it's now up to us to find and implement means of sustainable tourism that is inclusive of what was (old school means of tourism promotion), what is (the blend of what is today) and what will be (growth and advancement of tech that brings everything at the fingertips instantly).
Thanks to technology making the world one big happy village, the opportunities to learn from one another across the globe continue to grow innovatively.
Sustainable tourism is defined by the UN Environment Program and UN World Tourism Organization as "tourism that takes full account of its current and future economic, social and environmental impacts, addressing the needs of visitors, the industry, the environment and host communities."
While we may understand what it entails, Wendy is of the opinion that some establishments just use that umbrella term to allow for maximum profits, and when you get there, you discover that they're really just ticking a box.
"We have to consider the impact on the economy, local communities and the environment. A good example is how a lot of safari destinations in East Africa have involved local communities in their daily operations," Wendy explains.
"You walk into a high-end lodge in the Maasai Mara and the manager is from the local community as well as a bulk of staff are hired. That is possible because lodges invest back into building schools, hospitals, setting up income-generating projects like the Beadworks project in Kenya's Kalama Conservancy which exports jewellery created by local Maasai women to markets in the US and UK for these communities, and offers them employment opportunities thereafter."
"This is further reflected in how human-wildlife conflict is managed when an elephant for instance destroys a Maasai boma: there has to be compensation so that there's no retaliation, because both the wildlife and people have to co-exist in that land. Empowering people to be custodians of wildlife, rather than feeling like they've been set aside," she says.
The tourism supply chain in East Africa has increasingly been promoting local cultures, crafts and businesses, even if as a side effect, some cultural displays can feel like inauthentic commodities for tourist entertainment.
During this year's Magical Kenya Travel Expo, the now former Cabinet Secretary for Tourism in Kenya, Mr Najib Balala explained that in moving forward with tourism, factors such as positive promotion, sustainable mechanisms and unforgettable experiences are amongst the things service providers and governments alike should strive for.
He also explained the importance of friendly and conducive environments for both providers and consumers if there is any hope for Tourism to prosper.
"We need to consider improving air connectivity, in terms of cheaper rates, for starters goes a long way in boosting international tourism in the region. Likewise, trans boundary connectivity in terms of road and rail will help boost domestic tourism. We also need to find effective ways to ensure the safety of tourists coming into our countries," Najib had explained.
Najib also talked about the importance of having uniform and coordinated visa regiments and protocols in East Africa that would undoubtedly make travel into the region much smoother.
In Wendy's travel experience, restrictions on entry requirements to different countries in Africa make it all the more challenging for tourism.
"In 2022, it should still not be cheaper for me to go to India or Dubai than to Morocco or Senegal. A visa-free policy for Africans to travel throughout the continent, good road networks and a well-connected trans-Africa train system would be great. I see a lot of young people travelling in their home countries and around Africa for leisure, and that should be encouraged. Less corruption, especially by officials at border points would be great too; African borders are notorious for always trying to solicit a bribe. Good security would also encourage people to visit more destinations that still get a bad rep," she explains in listing some of the ways travel could be improved.
"More countries should sign on for and implement the open sky policy so we can converge into one air service market."
Creating more inclusive travel and tourism regulations will boost visibility and engagement on social media. Travel will no longer be an unattainable lifestyle goal for many and as a result, more African stories will be told by a generation that understands their roots.