Geita Gold, Stamico sign Sh55 billion drilling contract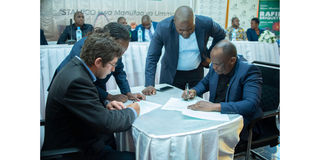 Summary
The State Mining Corporation has been providing exploration drilling services to Geita Gold Mining Limited since 2020 after local content regulations came into force
Dodoma. Geita Gold Mining Limited (GGML) and the State Mining Corporation (Stamico) have signed a two-year agreement worth Sh55.2 billion that will see the government agency carry out drilling operations at the firm's mining site.
The GGML acting managing director, Mr Elder Damon, stated during a brief ceremony to sign the agreement on Monday that more local companies have been awarded vendor contracts in the mining industry since the adoption of local content regulations in 2018.
"Our interest has been to support communities by equipping them with the skills to enable them to compete effectively. Stamico has been providing exploration drilling services at GGML, supporting surface exploration drilling programmes since September 2020," said Mr Damon.
"Stamico has provided the drilling services with high standards in safety, and drilling performance in line with our targets and objectives," he said, adding that the agreement demonstrates continued support for the development of skills and expertise around exploration drilling in the country.
On the other hand, Stamico director general Dr Venance Mwasse, commended GGML for trust and confidence in what they have done since their initial contract in 2020 and vowed to meet the drilling targets.
"We would like to assure GGML and the government that our work will be executed with high quality and standards," said Dr Mwasse.
The Minister for Minerals Dr Dotto Biteko who graced the signing event, revealed that Stamico's fortunes changed for the better in 2020 when they said the initial contract with Geita Gold Mining Limited.
"Since 2020 things have completely improved. Stamico has performed very well in terms of quality deliverables, something which many of us are really proud of," he said.
"Stamico has represented our country very well and that is why many investors like GGML are still interested to work with them," said Dr Biteko.
He also called upon other local companies to take advantage of international tenders whenever they are advertised because local content regulations support them.