New MSD glove factory to save Sh20 billion in imports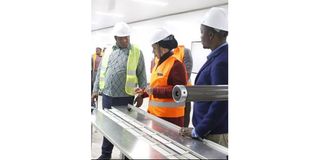 What you need to know:
The glove factory, whose construction started in 2020 is projected to generate Sh14.5 billion in revenue in its first year of business, and it will take no longer than eight years to recover its investment
Njombe. The government will save about Sh20 billion that it spends on importing surgical and examination gloves each year when a Njombe-based factory starts production five months from now.
Construction of the latex glove plant, which is located in the Idofi area of Njombe, has reached 70 percent of its completion, and the project developer is optimistic that it will be completed and ready for production by June this year.
The factory is owned by the Medicine Store Department (MSD).
The Chief Pharmacist, Mr Daudi Msasi said during a visit to the factory by MSD board members and officials from Njombe Regional Commissioner's office here yesterday, that the remaining tasks include fixing some machinery as well as getting accreditation and quality standards.
The factory, being built at a total investment of Sh16.7 billion, will have the capacity to produce at least 20,000 gloves per hour, which is equivalent to 10,000 pairs.
This, according to Ms Msasi, is equal to 83.4 percent of the estimated demand for gloves in the whole country.
"This factory is basically completed. The remaining issues are very minor and involve the issue of standards. We currently import 100% of our glove needs, so once completed, it will greatly help to reduce the money spent on importation," he explained.
During its first year of operations, the glove factory is expected to collect Sh14.5 billion in revenue and the invested amount will be recouped after a period of not more than eight years.
The ctual construction of the factory started in 2020.
Speaking during the event, Njombe Regional Commissioner, Mr Anthony Mtaka urged MSD to complete the factory within the specified time, saying the factory would make it easier for people access medical supplies like gloves.
The MSD board chairperson Ms Rosemary Silaa said the factory will provide 200 direct and indirect jobs for Njombe residents.
She said the delay in executing the project was mainly due to the fact that the developer had to start with securing the necessary accreditation and standards requirements for putting up such a facility.
Njombe District Commissioner, Ms Kissa Kasongwa said residents in the area were eager to see the factory become operational sooner than later.