Ecobank's parent firm approves bank's accounts, appropriation of 2022 profits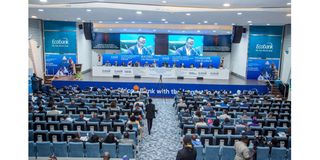 Lomé. Shareholders for Ecobank Group's parent company, Ecobank Transnational Incorporated (ETI), have approved the firm's accounts and the appropriation of profits for 2022.

The approval of the $222 million profit for the year 2022 – which was lower than the $295 million of 2021 – was part of the resolutions during the company's 35th Annual General Meeting (AGM) and an Extra Ordinary General Meeting - that was held here Wednesday, last week.

The Group's profit before tax, net revenue and total assets increased by 13 percent, 6 per cent and 5 per cent, to $540 million, $1.862 billion and $29.004 billion, respectively.
Ecobank Group also has a presence in 35 African countries, including in Tanzania.

At the meeting, shareholders also voted for the re-election of Mr Simon Dornoo, Prof Enase Okonedo, Dr George Donkor, Mr Deepak Malik and Ms Zanele Monnakgotla as directors of ETI. (Agencies)