Tour operators seek direct flights between Frankfurt, Kilimanjaro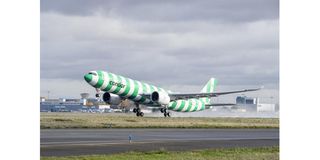 What you need to know:
Tour operators say it was only sensible for Condor to have direct flights between Frankfurt and Kilimanjaro International Airport
Arusha. Tour Operators in Tanzania are negotiating with the German leisure airline, Condor, with a view to enticing the Frankfurt-based airline to include the northern circuit in its East African scheduled flights, currently covering Nairobi, Zanzibar and Mombasa.
Tourism is currently Tanzania's number one foreign exchange earner, bringing in $3.15 billion during the year ending September, 2023, up from $2.2 billion during the year ending September, 2022.
Gold, which used to be Tanzania's main source of foreign exchange during the entire Covid-19 period has been reduced to second position, contributing $2.99 billion to the country's foreign exchange earnings.
Data from the National Bureau of Statistics (NBS) show that Tanzania received 1.131 million international arrivals between January and August, 20220233, up from 900,182 who entered the country during the corresponding period in 2022.
The five key source markets and the number of visitors in brackets include: the United States of America (84,541), France (72,009), Germany (57,798), United Kingdom (51,505) and Italy (51,056).
With such a background, the Tanzania Association of Tour Operators (Tato) says with 80 percent of all the visitors usually heading to the northern circuit, it was only sensible for Condor to have direct flights between Frankfurt and Tanzania's Kilimanjaro International Airport (KIA).
"Germany is an important tourist market for Tanzania because visitors from the country usually spend more days when they come here….," said the Tato CEO, Mr Sirili Akko.
The country manager for Condor in Tanzania, Paul Nzegele, revealed that at the moment the airline runs direct flights between Germany and Zanzibar twice a week, but from November 2023 they intend to increase the frequency to three landings in the Isles due to increasing number of travellers towards the festive seasons.
As for the proposed flights to Kilimanjaro International Airport, Nzegele said the company was working on the idea and possibly from next year, Condor will start flying directly from Germany to the Northern Tanzanian destination.
Condor currently operates the 310 seater Airbus A330-900 Neo, in the company's routes to Abeid Amani Karume International Airport in the Isles as well as Jomo Kenyatta International of Nairobi that also links to Mombasa.
The manager of Rickshaw Travels Limited, Glory Mlay, admitted that most of her company's clients who sample the Northern Tourist Circuit hail from Germany but few airlines fly directly from Frankfurt to Kilimanjaro which means they are forced to connect through Zanzibar and Nairobi.
"Sometimes the flights get fully booked, especially during end of year holidays, which means the market here is ripe for new airlines and more routes," Ms Mlay maintained.