Value of Kenya exports to Tanzania tops EAC growth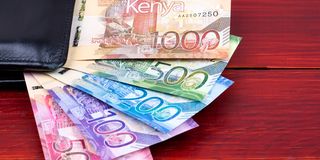 Kenya's total exports to Tanzania posted the biggest growth among all East Africa Community(EAC) destinations in terms of absolute value last year, underlining the gains of a reset in the relations between the two countries.
Data by the newly released Economic Survey 2023 shows that Kenya exported goods worth TSh1.14 tillion to Tanzania last year compared to TSh911 billion in 2021— a Sh236 billion jump which was the highest among all other EAC destinations.
"Exports to Tanzania grew by 25.9 percent to TSh1.14 trillion in 2022 on account of increased exports of iron and non-alloy steel," the survey said. ​​​​​
The performance of Kenya-Tanzania trade comes in the wake of improved relations between the pair after years of tiffs that at one point, resulted in retaliatory measures such as trade bans.
Kenya mainly imports cereals, wood, and edible vegetables from Tanzania and it exports pharmaceutical products, plastics, iron, and steel to the neighbouring State.
Former President Uhuru Kenyatta is credited for resetting ties Kenya's ties with Tanzania during his tenure, ending persistent strained trade ties between the two largest economies in the six-nation EAC bloc, which had for years, hindered the smooth flow of goods and services through the borders.
Kenyan manufacturers had in recent years protested "discriminative" duties and non-tariff barriers such as double inspection of goods for standards by Tanzania, which had made supplies such as meat, milk, and related products to the neighbouring country uncompetitive.
Uganda however remained the single leading export destination of Kenyan goods, both in EAC and globally, taking up TSh1.94 trillion of goods last year up from TSh1.83 trillion in 2021 and marking an increase of TSh110 billion.
Kenya's exports to Uganda last year were largely driven by increased shipments of palm oil even as President William Ruto's government stayed on a campaign to improve trade ties between Nairobi and Kampala after frequent tiffs over taxes and other non-tariff barriers.
For example, Kenya's Trade Minister Moses Kuria and Uganda's Treasury Permanent Secretary Ramadan Ggoobi in March agreed on the exemption of importation fees and levies on strategic commodities in Kenya to boost food security and integration of trade.
The Economic Survey showed that Kenya's exports to Rwanda posted the fastest growth among EAC destinations last year with a 31.6 percent jump.
"Exports to Rwanda increased by 31.6 percent to TSh800.4 billion attributable to growth in palm oil exports in the same period," the survey said.
Kenya's exports to the Democratic Republic of Congo(DRC) however dropped from TSh490 billion in 2021 to TSh350 billion last year, partly due to decreased shipments of tea, cut flowers, and coffee.
Kenya's exports to Burundi grew to TSh8.3 billion in 2022 up from TSh150 billion the previous year.
The Economic Survey further shows that Kenya's total export to its EAC partners increased by 17.7 percent in 2022 to TSh4,5 trillion.