Prime
Dar es Salaam-Mombasa gas pipeline reaches crucial stage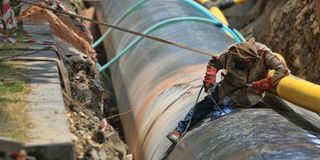 What you need to know:
The recent acquisition of petroleum refineries in Mombasa by the Kenyan government paves the way for further movement in the pipeline construction process
Dar es Salaam. Tanzania looks forward to further cementing its position in the East African energy landscape with the expected construction of the natural gas pipeline from Dar es Salaam to Mombasa, Kenya.
According to the government, this transnational project not only holds immense economic significance but also strengthens diplomatic ties between the two East African nations.
The project's significance is underscored by the recent acquisition of the petroleum refineries in Mombasa by the Kenyan government.
This strategic move demonstrates Kenya's unwavering commitment to advancing energy infrastructure and regional cooperation.
The preliminary agreement for the 600-kilometre pipeline, valued at $1.1 billion, was signed by Tanzanian President Samia Suluhu Hassan and her then-Kenyan counterpart Uhuru Kenyatta in May 2021.
In October last year, President Hassan and her Kenyan counterpart William Ruto agreed to fast-track the construction.
Speaking to The Citizen, the Permanent Secretary of the Ministry of Energy, Mr Felchesmi Mramba, emphasised the manifold importance of the gas pipeline project for Tanzania, stating that it will solidify and enhance economic and trade relations with Kenya.
Our energy and gas resources hold the key to boosting revenue and energy security. This project is not only an economic endeavour but also a diplomatic initiative that aligns with the government's economic diplomacy agenda," he said.
 Mr Mramba also addressed concerns regarding the quantity of gas supply, assuring that discussions on this matter are in their early stages and will be made public as soon as the negotiations are done.
The project holds the potential to create jobs, boost revenue, and improve energy access, ultimately contributing to the nation's development.
The Tanga gas plant already serves nearly half of the Kenyan market. But it is trucked via Namanga and Holili border posts.
Speaking recently, the Kenyan Cabinet Secretary for Energy and Petroleum, Mr Davis Chirchir, said another key milestone achieved was the completion of a comprehensive feasibility study by consultants, a crucial step towards the realisation of this ambitious endeavour.
He said Kenya is repairing Kenya Petroleum Refineries Ltd (KPRL) storage tanks in Mombasa, which would be used to store different petroleum products.
The refinery has 45 tanks with a total storage capacity of 484 million litres, which the Kenya Pipeline will also use to store its imported fuel for redistribution in the region.
"We hope once the 30,000-metric-tonne gas facility that is under construction in Changamwe is complete, the project will move to the next stage," Mr Chirchir was quoted by The East African newspaper.
Tanzania Petroleum Development Corporation (TPDC)'s director of planning and investment, Mr Derick Moshi, highlighted that while high-level agreements have been reached, technical and market analysis are making substantial headway.