Bongo Star Search season 13 reaches climax on February 4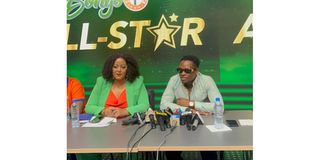 Summary
The finalists are now in the final preparations purposely to take the stage by storm during the final that will be spiced by famous artistes in the country
This year's Bongo Star Search (BSS) final will be held on February 4 at Masaki's The SuperDome in Dar es Salaam, where the first winner will take home Sh20 million.
The event features eight finalists who will perform with a live band during the final to be televised live by Star Times from 7pm, according to Benmark 360 Rita Poulsen.
Poulsen says the runner-up will be awarded Sh3 million and the third Sh1 million.
She explains that the finalists are now in the final preparations purposely to take the stage by storm during the final that will be spiced by famous artistes in the country.
According to Poulsen, the 13th Bongo Star Search season has been different when compared with the others due to the fact that it has been featured with the participants who were in the top 10 in the past.
"We have put together the winners who qualified for the top 10 of the past event to make the event exciting. We have done this because our aim is to give the audience the best entertainment as per the value of their monies.
"We are expecting to have a season of great excitement and a high level of competition from the participants. This time around, we have those participants who finished in the second to 10th positions in 2018 and 2021," she says.
She explained that the BSS has succeeded in touching the hearts of more than 5,000 young people and accommodating them in the campaign for reducing the transmission of HIV/AIDS with the over 60 million Tanzanian and non-Tanzanian audience watching the show through the Swahili channel on Startimes.
For his part, Director Nicklass explains, "It's gonna be a great night of talent, fun, entertainment you name it. I got an opportunity to work with BSS this year, grooming them on celebrity look for their future music venture,"
The top eight finalists have been selected by judges namely Rayvany, Shilole, Fid Q, Nandy, Barnaba and Adam Mchomvu.