Burna Boy will perform at Coachella 2023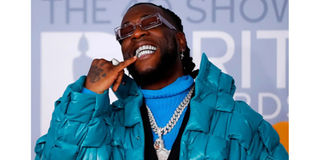 Summary
Headliners will include Bad Bunny, Blackpink, and Frank Ocean. Other marquee acts include Rosalia, Gorrilaz and Alex G
Nigerian megastar Burna Boy is among the artistes that will perform at the 2023 Coachella on April 14 and 21.
'Twice as Tall' artiste enjoyed a very successful 2022 with the release of his 6th album 'Love, Damini'. His hit single 'Last Last' was one of the biggest Afrobeats songs of 2022 as it enjoyed massive international success.
He previously performed at the Coachella in 2020 where many might recall him throwing a fit over the small font used in writing his name in the artiste line-up.
2023 Coachella will be headlined by Puerto Rican megastar Bad Bunny, K-pop girl group Blackpink, and American R&B artiste Frank Ocean.
The organizers announced the hefty list of performers on Tuesday. Bad Bunny is expected to perform on both Fridays, Blackpink will go on both Saturdays, and Frank Ocean will close out both Sundays.
The Grammy-winner is the only Nigerian artiste in the line-up as he continues to lead the global exportation of Afrobeats.
With the international appeal of 'Last Last' and Burna Boy's growing fame, his 2023 Coachella performance is expected to be a remarkable one.