Maua Sama reveals release date, title of her new album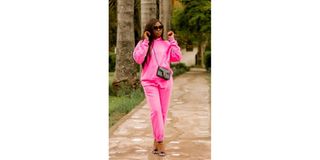 What you need to know:
Iokote singer's album, dubbed 'Love Waves', is expected to be released on Valentine's Day, February 14.
Bongo's songbird Maua Sama has finally revealed the date of releasing her highly anticipated album titled 'Love Waves.'
The THT Alumni who made waves in 2023 after rapping in MwanaFA's 'Sio Kwa Ubaya' Remix has announced the exciting news on social media.
The album is expected to be Sama's first studio album and it comes less than a year since she released her critically acclaimed EP titled 'Sinema'.
In her latest 7-track EP, Maua doesn't shy away from the vulnerability of love. With features from Ali Kiba and Jux, the sultry singer demonstrates why she's a force to reckon with in the East African music scene.
On her Instagram, Maua Sama announces to the 2.9 Million followers on her account that her debut album is titled 'Love Waves' and is expected to be released on February 14, Valentine's Day. The news created a buzz and sparked reactions from different artistes including Tanzanian rapper, Country Wizzy.
Apart from Maua Sama, another female artiste in Tanzania expected to release an album in 2023 include Zuchu who has been teasing her album for a long time now.