New Grammy categories include Africa-specific music prize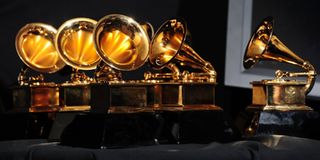 New York. The 2024 Grammy Awards will feature new honors including for Best African Music Performance, the Recording Academy announced Tuesday.
Along with the prize honoring a recording that uses "unique local expressions from across the African continent," the 66th edition of the prestigious music awards will present a trophy to Best Alternative Jazz Album and Best Pop Dance Recording.
Two existing categories, the non-classical Producer of the Year and Songwriter of the Year, will now be chosen by all voters as opposed to by a select, genre-specific field.
The changes follow several years of Grammy category reworks as the academy attempts to quell criticism that its award picks are not inclusive and don't reflect evolutions in the music industry.
Last year the body handed out a prize for Best Video Game Soundtrack, and created the long lobbied-for Songwriter of the Year prize, which is open to working songwriters who are not also performing or producing artists.
In 2020, the Los Angeles-based institution made a number of category name swaps, including changing the controversial "urban contemporary" to "progressive R&B."
The new award honoring African music recordings is genre-spanning, the academy said, and includes but is not limited to Afrobeat, High Life, Bongo Flava, Ghanaian Drill and Ethio Jazz.
Songs from African musicians have long dominated the academy's "global music" categories, with artists including Angelique Kidjo and Burna Boy making regular appearances.
The new category appears to be a bid to better acknowledge the impact of music from the African continent on international trends.
"These changes reflect our commitment to actively listen and respond to the feedback from our music community, accurately represent a diverse range of relevant musical genres, and stay aligned with the ever-evolving musical landscape," said Harvey Mason Jr, head of the Recording Academy, in a statement.
Music released between October 1, 2022 and September 15, 2023, will be eligible for nominations at the 2024 show