Protests against Pakistan's blasphemy laws outside European Parliament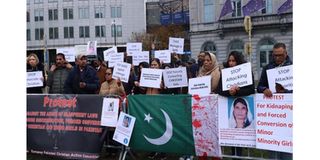 Brussels.  The European Pakistani Christian Action Committee protested outside the European Parliament over several rights violations in Pakistan. 

The protestors cited the abuse of blasphemy laws, a culture of impunity, discrimination, incitement of violence in the name of religion, coerced faith conversions and forced child marriages of Christian and Hindu girls in Pakistan, The White Post Pakistan reported.

They urged the European Union to encourage Pakistan to follow human rights obligations under the Generalised System of Preferences (GSP) Plus status.

White Post Pakistan is an online web portal dedicated to promoting the untold stories and struggles of religious minorities in Pakistan.
White Post Pakistan strives to provide a platform for researched-based articles written by professional journalists and editors, with a special emphasis on journalists from religious minority backgrounds.

During the protest, placards waving people shouted slogans calling for justice for victims of the Jaranwala attack on Christians. Protesters called for reforms in the Pakistani legal system. They said that Pakistan should amend all blasphemy laws, removing restrictions on religious freedom, and ensuring that the accused of blasphemy are not tried under the anti-terrorism laws.

The protesters said Pakistan must introduce laws criminalising coerced faith conversion of minority girls and women. Charlie Weimers, a member of the European Parliament from Sweden, joined the protest and condemned forced conversion and child marriage of Christian girls in Pakistan.

He called for the unconditional release of Anwar Kenneth, Shagufta Kiran and others who have been kept in prison unfairly due to blasphemy laws.

Weimers stated that Islamism and blasphemy laws are a direct threat to safety and freedom of religion. During the protest, Joseph Jansen, advocacy officer with Jubilee Campaign Netherlands, stressed on the European Union's responsibility to assess Pakistan's progress in implementing 27 international treaties under the GSP Plus mechanism.

Jansen stated that Pakistan as a beneficiary of GSP Plus mechanism must make efforts to improve the state of freedom of expression and freedom of religion. He said that dozens of people in Pakistan have been extrajudicially killed and minorities have been attacked multiple times on the pretext of blasphemy accusations.

He called on the European Union Parliament to pass a resolution urging Pakistan to take action to criminalise acts of forced conversion and child marriage.
He called on European Parliamentarians to travel to Pakistan and hold discussions with key stakeholders, including leaders of political parties and the Chief Justice of Pakistan, about improving religious freedom conditions in Pakistan.

During the protest, the European Pakistani Christian Action Committee spoke about the case of Anwar Kenneth, a Christian man sentenced to death for more than 22 years under blasphemy charges.
The committee has demanded his immediate acquittal and release from the Pakistani government without imposing any conditions.

Pastor Ghazala Shafique called it "deeply disturbing" that the Pakistani government has not been able to curb the abuse of blasphemy law. Pastor Justin Bhatti said tangible changes are needed to make Pakistan safer for religious minorities. He expressed hope that the EU will use its leverage to make this change happen.