Opportunity for Tanzanian students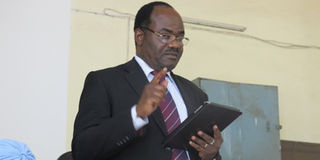 Summary
France Embassy has opened a higher education information center at UDSM to be a welcome center, a counselling and a support center for Tanzanian students who eager to further their career to France
Dar es Salaam. The government has expressed its commitment to cooperatingwith France with a view to imparting  skills to Tanzanian studentswho will help the country reach its ambitious mid-sized economy goal.
This was said yesterday  by the permanent Secretary in the ministry of Education, Science and Technology, Dr Leonard Akwilapo, during the inauguration of the French Higher Education Information Point at the University of Dar es Salaam (UDSM).
Dr Akwilapo, who represented the minister for education, saidTanzania still needed a work-force with expertise in science and technology sighting France as one of the best study-destinations that could be used to empower Tanzanian students.
"We have had good relations with France. Today we witness yet another move by France that is projected to improve our students' skills for our industrial goal," he said.
Dr Akwilapo further said that the government through the Commission for Science and Technology (Costech) and Tanzania Commission for Universities (TCU) will cooperate with the centreto see undergraduate and post-graduate students grab the opportunity.
"Our two commissions (Costech and TCU) will cooperate to easy the processes that will be required for the study and it will enable graduates to be eligible for employment in both local and international organisations," he said.
For his side, the France Ambassador to Tanzania Frederic Clavier said that his government was set to issue a total of 15 000 scholarships to students from the Maghreb and African countries.
"My government has created a special fund titled "Welcome To France" and dedicated 10 million euros to facilitate this fund. We want to welcome half a million foreign students by 2027, currently, we have 320,000 students," he said.
He said that the information point will allow many students from Tanzania to access information easily on the academic opportunities in France
"It is a welcome, a counselling and a supporting centre for Tanzania students who want to study in France," he said.