Why women farmers need land rights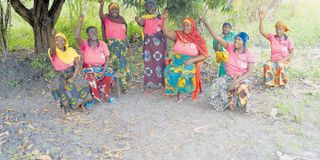 What you need to know:
Tanzania is among developing nations where gender inequality denies women the right to access land for economic production.

Dar es Salaam. Access to potentially-productive land is crucial to combating discrimination against females. When they are denied access, they are disadvantaged, economically powerless.
Tanzania is among developing nations where gender inequality denies women the right to access land for economic production.
According to a 2017 case study titled Women's Access to Land in Tanzania: The Case of the Makete District by Kerbina Moyo, the majority of village women are illiterate regarding their entitlements, and lack the capacity to fight for their rights.
Also, their involvement in land administration institutions is limited, compounded by outdated customs; archaic and conflicting interests in extant laws.
Gender activists speak out
Mr Davis Lumala is the strategic manager of the Tanzania Media Women's Association (Tamwa), a non-profit, non-governmental and non-partisan organisation. He told The Citizen in a telephone interview that outdated customs partly contribute to gender inequalities in African families.
"When a father dies, his daughters are denied the right to inherit the family land," largely because they will marry into other families where they'll us the latter's land, he said.
He also argued that women are vulnerable to extreme poverty because they're denied access to credit from financial institutions for not holding land title deeds as collateral.
"Policymakers must reinforce legal instruments and enhance public awareness on the importance of promoting gender equality," he said.
Also, he called on political leaders to organize dialogue sessions to discuss issues that hamper women's access to land for farming, among other challenges.
"For instance, Maasai tribesmen don't believe that women have any rights to land; a proven discrimination against women," he said.
The director general of the 'National Land Use Planning Commission' (NLUPC) in the Land, Housing and Human Settlements Development Ministry, Dr Stephen Nindi, has committed his Commission to collaborate with other stakeholders to address land conflicts in the interests of peace and harmony.
"Women's right to access land is on the agenda of the fifth-phase government -- and is also among priority areas of my office," he said.
Commenting on the issuance of 'Certificates of Customary Right of Occupancy' (CCROs) to villagers countrywide by his office, Dr Nindi asserted that at least 50 per cent of the CCROs in Mvomero District in Morogoro Region were issued to women.
"Outdated customs and traditions are still major concerns that contribute to discrimination against women and girls possessing land," he stressed.
"When a married couple divorce, the woman usually loses her right to own 'their' land," he stated.
In that regard, the government was determined to enhance outreach programmes to educate Tanzanians on land resource management and the importance of embracing gender equality in general and women empowerment in particular.
The period from the late 1980s to 1990s was characterized by economic liberalization in many African countries, including Tanzania and Kenya.
It was also the time when women's right to land were highly pretentious by country policies, market-driven factors and long-established social structures in diverse ways and to varied degrees.
"A majority of rural women don't know about their right to own land. Generally, it's men who own plots of land," says Ms Pili Magana, a small-scale farmer in Kibuko village, Morogoro Region.
Ms Magana is a mother of five children and a member of Muungano Group funded by Sustainable Agriculture Tanzania (SAT). As the first born, she was lucky to inherit all the family land after her father's death.
As her younger brothers were living in Dar es Salaam at the time, she ended up as caretaker and virtual owner of the land in rural Tanzania.
"Some religions virtually uphold discrimination against women and girls," Ms Magana says, citing the example of Islam which does not expressly recognise women's right to inherit land.
"But, in rare situations, women are allowed to inherit small portions of land, compared to men who inherit large portions of land," she laments.
So, she urges women to take up paying jobs so as to earn money for their families, rather than solely rely on support from men.
"It's high time that women stopped depending on men for their upkeep. They must go out to earn their upkeep – and, better still, doing so through cooperative groupings," she says.
The failure of women in Morogoro Region to excel in sustainable productive agriculture is also attributed to lack of funding. "Lack of sufficient capital is another key challenge to small-scale farmers," says Ms Mercy Meena, a small-scale farmer of Mayanga village in Morogoro, and chairman of the 'Twende Pamoja Group' funded by SAT.
Revealing that she's unable to raise many rabbits for lack of enough warren space, Ms Meena says small farmers don't have ready access to credit compared to their large-scale counterparts
Although owning a 10-acre farmland, she isn't able to utilize it all for lack of funding for irrigation farming when the rains fail.
Small-scale farmers are encouraged to adopt modern agricultural methodologies to increase yields. However, they fail to access reliable markets post-harvests.
"After harvesting, we send the crops to market in Morogoro. But transport costs are a challenge to small farmers -- resulting in little profit," says Ms Meena.
Another small-scale farmer in the same Kibuko village, Ms Asha Ngaimika, also lamented the lack of reliable markets.
"After attending training courses, we have increased yields -- but we lack reliable markets for the vegetables we produce," she says.
SAT has established a facility in Morogoro where farmers deliver organic food crops for sale
"The organic shop helps trained farmers to access markets for their organic produce. We encourage them to grow organic foods like vegetables, fruits," SAT founder Janet Maro told The Citizen in a recent interview.