70 entities ready to set up shop at $3 billion industrial complex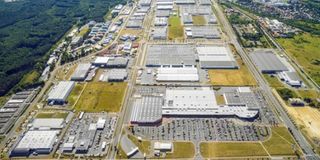 Summary
The site engineer, Mr Alexander Nchaholuli, said the names of the companies were yet to be disclosed, but they expect that at least five firms will start operations by June 2023
Dar es Salaam. Seventy companies have signed memoranda of understanding (MoUs) to be part of the $3 billion Sino-Tan Industrial Park in Kibaha, Coast Region.
The project – which is being implemented by a Chinese company – is expected to be completed in 2024.
Upon completion, the facility will accommodate over 200 industries.
Speaking to The Citizen, the site engineer, Mr Alexander Nchaholuli, said although the names of the companies were yet to be disclosed, they expect that five out of the 70 entities will start operations by June 2023.
"This project is expected to bring in nearly $6 billion in revenue annually when completed.
"So far the government has provided support in terms of infrastructure. As you may be aware, roads and the standard gauge railway pass near the site," he said.
Mr Nchaholuli was speaking when a group of investors toured the industrial park site in Kwala, Kibaha.
One of the guests, who is a technical and strategic advisor in Gabon's Ministry of Investment, Mr Jeff Didier, said the project reflects what has also been implemented in his country as one of the perfect strategies to promote more investments and generate productivity.
"It's an amazing project, and were will be interested in areas such as electronics," he said.
From Kenya, the managing director of a private firm, Samawati Capital Partners, Mr Samuel Ndonga, said as part of their niche as an investment company, they were mostly interested inthe food processing, energy, health, and education areas.
"This project has a big impact, considering the jobs it is going to create and its contribution to the economy," he said.
The proposed industrial park will cover a total of 2,500 acres and create 100,000 direct jobs and between 300,000 and 400,000 indirect jobs upon its completion.
It will be implemented in two phases whereby the first phase, according to the site engineer ,will involve 1,000 acres and the rest of the 1,500 acres will be covered in the second phase.
On its completion, it will be the largest industrial park in Southern Africa.
The park will contain manufacturing units for pharmaceuticals and medical equipment, automotive assembly, the processing of agro products, clothing and apparel, and leather goods.