Experts share ways for Tanzania to mitigate climate change menace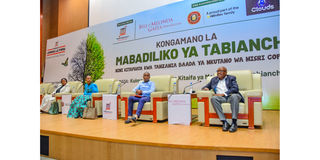 Summary
Tanzania is concerned about climate change, which may impede its ability to achieve critical goals such as economic growth, sustainable development and poverty reduction
Dar es Salaam. Environmental experts have recommended four areas to be prioritised in order to help the country build resilience to the impacts of climate change and contribute to the global effort of reducing greenhouse gases (GHG) emission.
Tanzania has committed to effectively meeting the objectives of the nationally determined contribution and to participating in national and international processes to expedite its implementation, as it commits to reducing greenhouse gas emissions by 30-35 percent across the economy by 2030.
For the goal to be achieved, yesterday during the Mwananchi Thought Leadership Forum under the main topic; To strengthen the National Climate Change Agenda, experts, advised the full implementation of the environmental policy that was reviewed in 2021, as well as the establishment of an independent climate policy.
The panellists at the first conference this year under the Mwananchi Communications Ltd, guided by the main question, 'What's next for Tanzania after the Egypt COP27 meeting?' suggested the use of renewable energy and conducting environmentally friendly agriculture as other ways.
This comes when the country is already affected by climate change and variabilities, with extreme events such as droughts and floods causing major economic costs, reducing long-term growth, and disrupting livelihoods of both rural and urban communities.
The impacts are affecting agricultural production, water resources, marine and coastal zones, public health, energy supply and demand, infrastructure, biodiversity, and ecosystem.
Current climate vulnerability and future climate change impacts are significant enough to curtail Tanzania from achieving key economic growth, sustainable development, and poverty reduction targets.
"As private sector, the government and the media we must highlight how we can really take action in implementing the existing environmental policy so that we can reduce the effects we see," said Ms Mesiya Mwangoka, an environmental expert from Tanzania Breweries Ltd (TBL).
Ms Mwangoka advised that in implementing the policy, as a country, it must focus on attracting investors in textile manufacturing industries in order to reduce cars entering the country when they are worn out. "We have been receiving cars manufactured a long time ago from abroad, many of them are causing damage to the environment... We would like to see those investors invest locally so that used cars are new and help us in mitigating climate change," she explained.
For his part, Mr Baraka Machumu from Forum CC said that there was a big difference between the Environment and the Climate, suggesting that as a country there must be a strategy to create an independent climate policy that will provide guidance and a direct strategy to deal with its effects.
"We need a climate policy. This is not a cross-cutting issue to be placed as part of the environmental policy," he said while contributing to the topic as a panellist.
"With this policy, it will help us in dealing with the effects of climate while reducing emissions as the nation's goal and as the COP27 promise directs," he added.
Mr Machumu also noted that it was important for the country to come up with strategies that could be implemented by fully switching to renewable energy use because Tanzania's greatest potential in reducing emissions was in that area.
"Tanzania has a great chance to achieve its goals if it utilises the opportunity of renewable energy and attracts more investors in this sector. However, we must also be ready to reduce the indiscriminate use of fossil fuels because it is what is holding us back," he explained.
Prof David Nyange, a policy advisor at ASPIRES Tanzania, expressed his concern that the population was increasing at a higher pace while the agricultural area continued to decrease rapidly due to climate change.
He explained that by 2034, Tanzania will have more than 100 million people and by 2050 there will be more than 150 million people and climate change is threatening food security as every year, more than 400, 000 trees are felled in Tanzania
"This is an extremely rapid rate of cropland destruction. A modern approach to agriculture requires caution and a focus on value rather than merely productivity," he advised.
The representative of the Minister of State, Vice President's Office, Union and Environment, noted that through the national environmental policy that was reviewed in 2021 and included Climate Change, the country was asking for all stakeholders to unite in implementing that policy.
"We are also examining the national climate action plan and our national environmental policy, and we will need to put them into action," said Mr Arnold Mapinduzi, manager of the National Environment Management Council (NEMC) in the Coast region.
The minister's representative added: "We are currently emphasising the conduct of research on climate change by looking at our national development priorities and the findings should always be made available for the public and not be shelved in libraries."