JPM urges Tanzanians to support Taifa Stars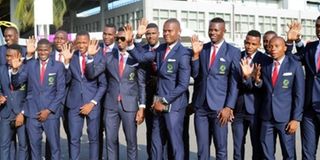 Dar es Salaam. President John Magufuli has urged football stakeholders in the country to encourage and give support to the national soccer team players, Taifa Stars, despite their 2-0 loss to Senegal in the Africa Cup of Nations (Afcon).
President Magufuli made the statement when launching the machinery and warehouse of Taifa Gas Ltd in Kigamboni District.
The head of state said Taifa Stars players are in Cairo, Egypt, representing the nation and that their loss is the loss of the whole nation and their victory is the victory of the whole nation.
President said it is the duty of all Tanzanians to mobilize the team's players as well as the technical bench and not to discourage the players in the competition.
"Let's give the Taifa Stars players moral support. We need to encourage the players in the competition, despite losing to the number one team on the African continent.
"They deserve the commendation as the players are the ones, who made the country qualify for Afcon after a period of 39 years," said President Magufuli.
He explained that Senegal is the top team in Africa with the players who play professional soccer in Europe.  
"We lost 2-0, which is not a big margin. We have the remaining encounters against Kenya (Harambee Stars) and Algeria. So, we still have the chance to do the best," said the president.
The president said that a loss in a football match is part of the game and that they have to fight hard in the next matches. "We all target victory and we call upon the players not to be discouraged, I give them support," he said.
Earlier, the chairman of the Taifa Stars special committee, Paul Makonda, said he had been discouraged by comments on social media, which slammed both the players and football governing body (TFF) leaders.
He explained that he managed to talk to team captain Mbwana Samatta, who promised him to fight hard in the encounter against Kenya tomorrow.
"The players' morale is in top shape and they are ready to do their best in the encounters against Kenya and Algeria. I give assurance that the team will win the match," said Makonda.