Mobile phone users with pornographic images must delete them before Monday, RC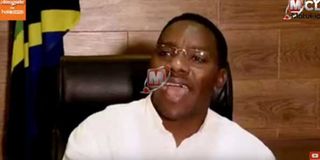 What you need to know:
The team, whose base will be in Mburahati, will start its work on November.

The RC gives Dar residents until Monday to delete all pornographic images, which are in their telephones.

Dar es Salaam. Dar es Salaam Regional Commissioner Paul Makonda has formed a 17-member committee to investigate people who are involved in sex business.
Mr Makonda told a press conference in Dar es Salaam on Wednesday October 31 that the committee would pursue residents dealing in sex business in brothels or and those who advertise through social media platforms.
The committee, which will be based in Mburahati, includes police, officials from Tanzania Communication Regulatory Authority (TCRA), Tanzania film board and psychologists.
"People should make sure that they have deleted pornographic pictures from their phones because I wouldn't like to see a public figure arrested due to photos included in his or her phone," said Mr Makonda.
He insisted that if the government wouldn't intervene, sex business might hinder community development.
The RC revealed that the team will start its work on November 5.