New solar tech now introduced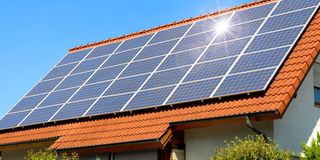 Summary
The idea is to help small industries have uninterrupted and cost effective power supply and increase production.
Butiama. Finland-based company, Wartsila, has joined hands with the government and other stakeholders in the country to fight against environmental degradation by introducing a solar project that will be used by small industries to carry out their activities.
The idea is to help small industries have uninterrupted and cost effective power supply and increase production.
Speaking to reporters in Butiama recently, Wartsila field operations officer Heikki Lindfors said the project was known as GoSol and aimed at giving back to society by breaking cost barriers currently limiting the deployment of solar thermal technologies in local entrepreneurial applications in the country.
He said the technology was very powerful and easy to use as it was made by local materials, making its maintenance uncomplicated and was, therefore, of sustainable. He said it would help reduce the use of charcoal and it was different from solar energy currently available in the country.
He explained that the type of solar panels used in the country produced electricity that was used for domestic purposes such us lighting and running electronic devices, but the one introduced would be used to run small industries and fitted well in the government's drive.
He said they targeted small entrepreneurial groups, who used electricity and charcoal to run their activities, adding that they had already engage three women groups in Musoma Township.
He noted that they also trained five local people, who would construct some machines for groups and maintain them if needed. Mr Lindfors insisted that the machines could be used for baking, milk powdering, fish drying and meat drying projects.
"Electricity is not a solution, especially for small entrepreneurs as there are power interruptions almost everyday. So, most of these entrepreneurs are using charcoal, which is very dangerous to our environment.
Therefore, to save our environment and mitigate climate change effects we have come up with this new technology, which is very friendly to the environment and it will improve their income in general," he explained.
Mr Lindfors noted that the technology would not only provide clean energy, but also help local entrepreneurs to save money, improve their activities, protect the environments and eradicate poverty as the groups would increase their production.
He said the project had been implemented in Kenya for more than two years and it had positive results. He added that the cost of one machine ranged between $2,000 and $2,500, but it depended on the availability of materials and labour.
The use of green energy is gathering momentum in various parts of the country to ensure Tanzanians access power at affordable costs.