Organisers roll out the red carpet ahead of CSO Week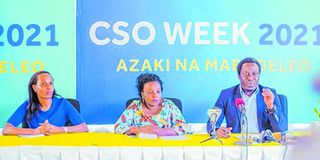 Summary
The 2021 CSO Week will be opened on October 23 at the Jakaya Kikwete Convention Centre, and the chief guest is expected to be the National Assembly Speaker, Mr Job Ndugai
Dar es Salaam. Stakeholders have been urged turn up in large numbers and attend this year's Civil Society Organisations (CSO) Week exhibition, which is scheduled to start this weekend in Dodoma.
CSO Week will be opened on October 23 at the Jakaya Kikwete Convention Centre, and the exhibition is scheduled for October 23 and 24 at the same venue.
Conference sessions will take place from October 25 to 28 at Royal Village Hotel.
Addressing a news conference at the Foundation for Civil Society (FCS) offices in Dar es Salaam, Legal Services Facility (LSF) executive director Lulu Ng'wanakilala said the chief guest on the opening day is expected to be the Speaker of the National Assembly, Mr Job Ndugai.
"Residents of Dodoma and other regions are welcome to the CSO Week exhibition, whose theme is 'Civil Society and Development'. Honourable Ndugai and other visitors will have an opportunity to see various activities being undertaken by CSOs," she said.
Tanzania Association of Non-Governmental Organisations (Tango) executive director Ramadhan Masele said various events and activities have been lined up during this year's CSO Week in Dodoma.
They include provision of legal assistance at various pavilions and education on Covid-19 vaccination.
On October 24 there will be discussions on how CSOs are working with the government to facilitate and expedite socioeconomic development in the country.
Legal and Human Rights Centre (LHRC) executive director Anna Henga said CSO Week would also see the presentation on October 28 of various awards, including in areas such as gender, accountability and people living with disabilities. The Minister of Health, Community Development, Gender, Elderly and Children, Dr Dorothy Gwajima, is expected to be the chief guest at the event.
She added that CSOs that excelled during the past year would be recognised and honoured during CSO Week.
Ms Henga reiterated civil society's commitment to working closely with the private sector in various areas, and urged various stakeholders and the general public to attend CSO Week events in large numbers.
For his part, FCS executive director Francis Kiwanga thanked the government for recognising and appreciating the pivotal role civil society is playing in the country's socio-economic development, adding that the future is promising under President Samia Suluhu Hassan.
He said President Hassan's proposals to civil society would also be discussed during CSO Week.
Mr Kiwanga said organisers had worked exhaustively to ensure that members of the public would benefit from the various activities lined up during CSO Week, adding that they recognised the importance of the role of the media in disseminating information from the event.
"One of our key aims is to make sure that the public will be fully informed about CSO Week, and that is why we intend to work closely with the media throughout the event," he said.