President Samia kicks off China visit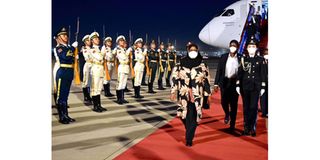 Summary
The visit is expected to focus on key areas of cooperation between Tanzania and China.
Dar es Salaam. President Samia Suluhu Hassan has arrived in Beijing, China for a state visit that seeks to strengthen bilateral cooperation between the two countries.
Samia arrived at Peking International Airport, Beijing on November 2 for the official visit that ends on Friday, November 4.
Samia's visit follows an official invitation by Chinese President Xi Jinping, who will host a welcoming ceremony for her at the Great Hall of People in Beijing.
The visit is among the first trips by national leaders to China after the outbreak of Covid-19 pandemic.
The visit is expected to focus on key areas of cooperation between Tanzania and China.
These include agriculture, industrial development, trade and infrastructure.
Samia and Xi will also witness signing of various contracts and Memorandums of Understandings (MoU) for mutual interest of the two countries.
Some of the areas of cooperation include infrastructural development, agriculture, science and technology investment, business and marketing.
"She will also hold talks with Chinese Prime Minister Li Keqiang and Chairman of the Standing Committee of the National People's Congress of China Speaker of the Parliament Li Zhanshu," reads part of the statement issued by the Directorate of Presidential Communications.
President Hassan has already met with Chinese Prime Minister Li Keqiang, and she is expected also to meet Mr Li Zhanshu, the chairman of the National People's Congress Standing Committee.
Speaking yesterday, during an interview with China Global Television Network (CGTN) ahead of President Hassan's state visit to the Asian giant, Tanzania Ambassador to China, Mbelwa Kairuki said, Tanzania's export to China is expected to increase to 1billion US dollars (About 2.3tri/-) in the year 2025, from the current $600 million (about Sh1.4 trillion).
"This is a historic and significant visit because it's the first time President Samia is flying to China since she came to power in March 2021, moreover, the visit is taking place immediately after the 20th congress of the Communist Party of China (CPC)," he said.
The just concluded CPC congress appointed President Xi to head China for the third term.
He also said the trip as a symbol of unity and mutual understanding, since the Chinese President Xi visited Tanzania on his first visit to Africa in 2013 after he took office in 2012.
"This is continuation of symbolism that signifies excellent, all weather friendship that the two countries have been enjoying for the past 58 years," Mr Kairuki added.
The envoy went on to explain that the Tanzania and China have maintained the cordial relationship in multiple sectors of development, including the construction industry.
According to him, in the past three years, Chinese enterprises implemented projects worth $8.5 billion in Tanzania.
The visit will also pave the way for increasing Tanzania's export to China, especially on crops that are in high demand.
"Currently, China is in need of soybeans, whose demand is 100 million tonnes per year… it's high time Tanzanian farmers make better use of this opportunity by cultivating this crop, the embassy is ready to provide all the needed support," he assured.
In another development, Mr Kairuki said that Tanzania expects to receive 500,000 tourists from China by the year 2025, given the ongoing efforts being taken to market tourism destinations available lin the country.
He said currently Air Tanzania flies twice a week to China and plans are on cards to add one more flight; "this will enable us to meet the target of having 500,000 tourists by 2025."