Speed up licensing round process, says Majaliwa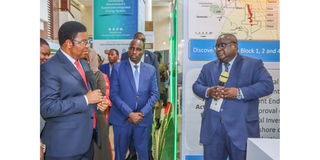 Dar es Salaam. The Petroleum Upstream Regulatory Authority (PURA) has been urged to expedite the licensing round for auctioning petroleum exploration blocks.
The directives were given by the Prime Minister of the United Republic of Tanzania, Kassim Majaliwa at the ongoing two-day Tanzania Energy Congress that is taking place at the Julius Nyerere International Convention Center in Dar es Salaam on September 20 to 21, 2023.
"I urge you to expedite the auctioning of our blocks so that we can draw in investors for the country's oil and gas exploration and production,"  said Majaliwa.
Giving a brief report to the Prime Minister, PURA's Director General Charles Sangweni said the authority is continuing with the initial preparations for the fifth licensing round of auctioning both onshore and offshore exploration blocks in order to attract more investors.
He further stated that, along with these preparations, PURA is currently demarcating the blocks to be auctioned and preparing data packages for each block.
"So far 26 blocks have been earmarked to feature in the proposal for the licensing round, 15 of which are onshore and 11 offshore,"  Sangweni elaborated.
He also noted that the government expects to launch the Licensing Round between December 2023 and March 2024 after completing the ongoing preparatory activities.
According to them the process of auctioning the blocks is estimated to cost a total of Sh3.5 billion. Additionally, for the fiscal year 2023/24, the Government, through PURA, has allocated Sh500 million for the initial preparatory work for the auction.