Tanzania in trouble over North Korea sanctions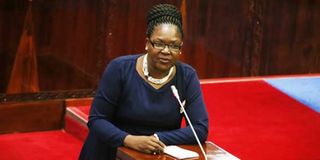 What you need to know:
Other countries, which are implicated in the report are Angola, Congo, Eritrea, Mozambique, Namibia, Uganda and Syria.

Tanzania is among the seven countries, which are accused of violating arms embargo against North Korea imposed by the United Nations (UN), according to a report of experts monitoring sanctions. The report was released on Saturday.
Other countries, which are implicated in the report are Angola, Congo, Eritrea, Mozambique, Namibia, Uganda and Syria.
However, deputy minister for Foreign Affairs and International Relations Dr Suzan Kolimba has said that the government was not aware of the report.
"We haven't received any communication, so I can't comment…we will be in the right po-sition to comment when we see the report," Dr Kolimba told The Citizen in a telephone interview.
According to the report, Kim Jong Un's government continued to flout sanctions on commodities, as well as an arms embargo and restrictions on shipping and financial activities.
The report was made public two days before the US called for a vote on a new sanctions resolution.
The original US draft would impose the toughest ever sanctions on North Korea including banning all oil and natural gas exports to the country and freezing all foreign financial assets of the government and its leader Jong-un.
In the report the experts said they are also investigating reports that a North Korean company is repairing and upgrading Tanzania's sur-face-to-air missile systems, some-thing, which Dr Kolimba said she was not aware of. When it comes to financial sanctions, the panel said North Korea continues to evade and violate them in a number of ways: Many of its financial institutions maintain representatives overseas who conduct transactions that facilitate prohibited programmes.
It is alleged that North Korea illegally exported coal, iron and other commodities worth at least $270 million to China and other countries including India, Malaysia and Sri Lanka in the six-month period ending in early August in violation of the sanctions, UN experts claim.
Between December 2016 and May 2017, for example, North Korea exported over $79 million of iron ore to China, the report said.
And between October 2016 and May 2017, it exported iron and steel products to Egypt, China, France, India, Ireland and Mexico valued at US$305,713.