TRC allays fears over 'ordinary' SGR carriages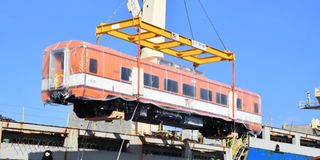 Dodoma. The Tanzania Railways Corporation (TRC) has cleared the air regarding the arrival of the cabins saying the ones that arrived and widely shared on social media are meant for the long routes.
Videos showing the carriages being offloaded at the Dar Port caused uproar on social media.
According to TRC's Masanja Kadogosa, the locomotives that were ordered to operate for the SGR are yet to arrive in the country.
Earlier this week on  social media platforms the photos of the newly imported locomotives began circulating, with netizens saying they were quite a far cry from what was promised.
"What will we tell Kenyans?, Why you don't like Tanzanians to be happy?, did we miss even  the second-hand that are similar to those in Japan? "Really, with the Sh26 trillion project and you are bringing us these?, " asked Rashid Chilumba, on Instagram.
However, speaking on Thursday,  November 24, during the Prime Minister Kassim Majaliwa tour, Kadogosa said the locomotives are for long routes.
The premier visited the Kikuyu area in Dodoma to see the progress of the project, which is being implemented by Turkish firm Yarp Merkez.
"We have already received 14 passenger carriages for the first phase from Dar es Salaam to Morogoro," Kadogosa said.
He said the locomotives are the ones seen in pictures circulating on social media and will be received on Friday November 25, by the minister for Works and Transport Prof. Makame Mbarawa.
He said the SGR routes between Dar es Salaam and Morogoro will kick off in February 2023.
In addition, Kadogosa said that the reports that there are wagons that will be auctioned are not true and that the TRC was not involved in such issues.
For his part, Prime Minister Kassim Majaliwa said the government aims to strengthen the transport sector in order to expand the economy of individuals and that of the nation by enabling people's movement across the country.