U17 players may get Sh20m each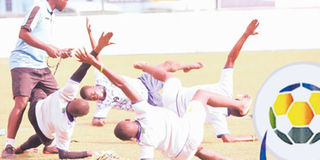 Dar es Salaam. The national Under-17 soccer team, Serengeti Boys, are inspired to qualify for the 2019 Fifa Under-17 World Cup.
This follows team patron Reginald Mengi's pledge to reward each player Sh20 million if they win two matches in the 2019 Africa Cup of Nation (Afcon) finals.
Serengeti Boys launch their Nations Cup campaign against Nigeria's Eaglets tomorrow at the National Stadium.
The Group A match, which starts at 4pm, will be followed by an encounter between Uganda and Angola.
Mengi made the pledge during his meeting with Paul Makonda, chairman of a special committee formed to ensure Serengeti Boys qualify for the World Cup, yesterday.
"The national Under-17 soccer team players will get twenty million each if they win two matches in the Afcon finals, which start tomorrow in Dar es Salaam," Makonda said.
Makonda, who doubles as the Dar es Salaam Regional Commissioner (RC), said his committee was committed to giving the players the support they need to shine in the Afcon finals.
He asked soccer lovers in the country to join hands with his committee in support Serengeti Boys, who are gunning for their first appearance in the Fifa World Cup.
The RC played an inspirational role for the national senior soccer team, Taifa Stars' qualification for the 2019 Africa Cup of Nations (Afcon) finals.
He said Serengeti Boys have what it takes to win two matches book a place in the World Cup finals to be held in Brazil in October.
Makonda challenged the youngsters to be diligent and focused, saying his committee has set aside hefty awards for the team.
Meanwhile, Makonda said plans were on for his committee to meet Taifa Stars players before heading to Cairo, Egypt, for the Afcon finals.
The finals will take place in Egypt in June.