Yanga, Azam face tough Mainland League matches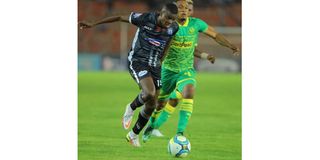 Summary
The matches are vital for all four teams due to the fact that each are focusing to improve their positions in the league standing
Dar es Salaam. Mainland Tanzania big guns, Young Africans (Yanga) and Azam FC today face tough assignment as the league continue into two different venues.
Yanga will host Ruvu Shooting at Benjamin Mkapa Stadium from 7pm and Azam FC will be away playing against Singida Big Stars at the Liti Stadium in Singida from 4pm.
The matches are vital for all four teams due to the fact that each are focusing to improve their positions in the league standing. As Ruvu Shooting look for revenge of 2-1 loss in the first match, Singida Big Stars also aim the same against Azam FC who won 1-0 in the first match. Yanga were placed at the top with 53 points from 20 matches while Ruvu Shooting are placed at the bottom of the league standing after collecting 14 points from 20 matches.
This could take them up for one position in the standings if they win against Yanga today. The team may leapfrog Polisi Tanzania who are placed in the 15th with 15 points from 21 matches. Ruvu Shooting's head coach, Mbwana Makatta, said his players were in top form, and are optimistic of getting a good result despite of facing strong opposition from Yanga.
"We are continuing to sharpen our players as we need to record victory in the encounter in order to improve our chances in the league.
Yanga have a strong team of talented players. We need to show our prowess in the encounter in order to collect all the three points in the encounter," said Makata.
Yanga's head coach, Nasreddine Nabi, said all of his players are in top form to do their best in the encounter. Nabi said they target a good result at the Benjamin Mkapa Stadium and are not ready to disappoint their fans.
"We are ready for the match and our target is to emerge victorious," said Nabi.
"We have committed players who are ready to show their prowess in the encounter, we have practised very hard to ensure we win the game," he said.
He said that their target is to defend well the title and only way to reach their goal is to win all matches in the league.