Ihefu halt Yanga's unbeaten streak in Mainland League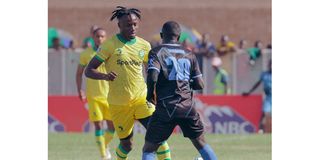 Summary
Before the result, Yanga managed to be unbeaten in 49 matches they played in the NBC League
Dar es Salaam.  Mbeya. Ihefu Football Club have finally ended Young Africans (Yanga)'s unbeaten run after they yesterday recorded a 2-1 victory in the Mainland Tanzania Premier League match held at Mbarali's Highland Estate Stadium in Mbeya.
Before the result, Yanga managed to be unbeaten in 49 matches they played in the Mainland Tanzania NBC League.
However, Yanga still lead the league with 32 points while Ihefu FC are placed 13th with 11 points from 14 matches.
Yanga were the first to score in the eighth minute through Yanick Bangala's header after a well taken free kick from Joyce Lomalisa. However, Never Tigere equalized for Ihefu FC in the 38th minute through a free kick after Dickson Job had fouled Jaffar Kibaya. Ihefu FC's second goal was scored by Lenny Kisu in the 62nd minute following the mistake made by Yanga's defence.
Meanwhile, the league continues today, whereby Coastal Union will be hosting Dodoma Jiji FC at the Mkwakwani Stadium in Tanga. The match is expected to be tough as each team will likely be targeting victory in order to improve their chances in the league standings.
Coastal Union are placed 12th with 12 points from 12 matches while Dodoma Jiji FC are in the danger zone after collecting nine points from 13 matches.
Coastal Union head coach Yusuph Chipo said they are facing an uphill task against Dodoma Jiji FC who also target victory in the match.
"Our task is to record a good result. We are aware that we are going to play one of the tough teams, despite the results they have recorded so far, we need to be very keen in the encounter" said Chipo.
He said most of his players are in top form to show their commitment in the encounter.
Dodoma Jiji FC head coach Melis Medo said they are aware that the encounter is going to be very tough, but his players are in high morale to face the challenge. He said his players know the importance of the match and have promised to fight hard in order to win.
"My players are in high morale ahead of the match in which they have promised to do their best and come out with a good result," said Melo.