Simba SC meet Raja Club in CAF Cup formality encounter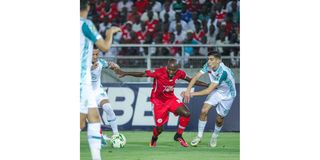 Summary
The group F match has been scheduled to take place at the Stade Mohamed V from 10pm Moroccan time (1am Tanzanian time tomorrow)
Dar es Salaam. Tanzania's envoys in the African Champions League, Simba SC, today will be seeking revenge against Moroccan giants Raja Club Athletic in Casablanca, Morocco.
The group F match has been scheduled to take place at the Stade Mohamed V from 10pm Moroccan time (1am Tanzanian time tomorrow).
Mauritius' referee Ahmad Heeralall will be at the centre in the encounter and assisted by Hensley Petrousse from Seychelles and Ram Babajee from Mauritania while the fourth official is Ganesh Chutooree, also from Mauritius.
Both Simba and Raja Club Athletic have qualified for the quarterfinals of the CAF competition and the encounter is regarded as the battle of supremacy for the two teams.
In their first leg held at the Benjamin Mkapa Stadium in Dar es Salaam, Simba lost 3-0.
Simba head coach Roberto Oliveira Gonçalves do Carmo alias Robertinho said all of his players are in good form and are ready to deliver their best in the encounter. The Brazilian trainer said his players are aware of the importance of the match and target a positive result. However, Simba will miss the services of their five players in the encounter including Mohammed Hussein alias Tshabalala, Jonas Mkude, Ismael Sawadogo, Augustine Okrah and Mohamed Ouattara.
"It is going to be a tough match as each team will be seeking victory. It is a chance for us to revenge a 3-0 loss at our home venue, the Benjamin Mkapa Stadium, this time around, all my players have adopted my teaching and are seeking to revenge," said Robertinho.
He wanted his players to play with determination in order to shine in the encounter.
"It is not going to be an easy match because we are playing against a team that is yet to lose any match in the competition.
"Although we have already qualified, we need to have the perfect record in the group," he insisted. Another match set for today will be between Vipers of Uganda and Horoya AC in Conakry, Guinea.
The match is just a formality because either of the winning team in the encounter will not qualify for the knockout stage.