Prime
Yanga face tricky Namungo FC test in Mainland League today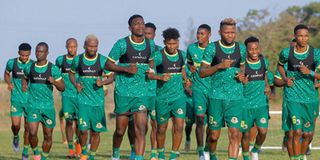 What you need to know:
Records show that Yanga have won three direct matches out of eight that the two teams have played. Five matches ended with a draw.
Dar es Salaam. After shining in the African Champions League match against El Merreikh of Sudan, the defending champions, the Young Africans (Yanga) return to the Tanzania Mainland Premier League assignment today, facing Namumgo FC at the Azam Complex from 7pm.
Yanga recorded a 2-0 victory against El Merreikh in an away encounter to put one leg in the Group Stage of the Champions League, for which they qualified in the first edition in 1998. The match was played at Kigali's Pele Stadium in Rwanda last Saturday.
The Yanga-Namungo match is very important for all the teams to win and improve their chances in the league standings.
Records show that Yanga have won three direct matches out of eight that the two teams have played. Five matches ended with a draw.
Yanga need to continue their winning streak in the league while Namungo FC search for their first victory since the start of the league.
The Jangwani Street giants recorded 5-0 in the past two league matches. They won 5-0 against JKT Tanzania and later 5-0 against Kinondoni Municipal Council (KMC). Namungo FC started the league matches with a 1-0 loss against JKT Tanzania and later recorded a 1-1 draw against KMC. The league log shows that the Jangwani Street giants are now in second place with six points from two matches, while Namungo FC are placed in 15th with one point from the same number of points.
The newly promoted team, Mashujaa, are at the top with seven points from three matches.
Yanga head coach Miguel Gamondi said they are targeting a victory over Namungo FC in order to go top in the league standings.
"We need to be well-focused on the match, as it is not going to be easy. We want to maintain our winning streak by continuing to win match after match, despite facing opposition," said Gamondi.
Yanga are expected to field most of their top players, such as Djigui Diarra, Maxi Nzengeli, Pacôme Zouzoua, Khalid Aucho, Mudathir Yahya, Kennedy Musonda, Jesus Moloko, Ibrahim Bacca, Stephane Aziz Ki, Mudathir Yahya, Salum Abubakari, Zawadi Mauya, Jonas Mkude, Farid Mussa, Gift Fred, Bakari Mwamnyeto, Clement Mzize, Dickson Job, and many others.
For his part, Namungo's coach, Cedric Kaze, said they are taking the encounter seriously with the target of emerging victorious.
He said his players are in good shape to face the challenge of the league leaders, expressing that they have trained well ahead of the encounter.
"Indeed, it is going to be a tough match for which my players have received intensive training to win. They are able, willing, and ready to make us happy," said Kaze.