Yanga in challenging task against Tanzania Prisons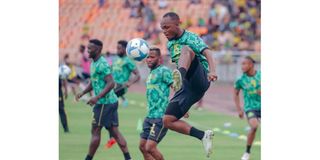 Summary
As Yanga will likely target to bring joy back to their fans after a loss to Ihefu FC, Tanzania Prisons will likely be out to add another pain to the Jangwani Street men by recording a victory
Dar es Salaam. After a 2-1 loss to Ihefu FC, football giants Young Africans (Yanga) today face another challenging task against Tanzania Prisons at the Benjamin Mkapa Stadium in the city as the Tanzania Mainland NBC Premier League rolls on with two matches at various venues.
Besides the Yanga-Ihefu game, Geita Gold FC will at 4pm be hosting Mtibwa Sugar FC at the Nyankumbu Stadium in Geita.
As Yanga will likely target to bring joy back to their fans after a loss to Ihefu FC, Tanzania Prisons will likely be out to add another pain to the Jangwani Street men by recording a victory in order to improve their chances in the league standings.
Yanga, who are the defending champions of the league, have so far collected 32 points from 13 matches while Tanzania Prisons are placed 11th with 15 points from 14 matches.
Yanga assistant coach Cedric Kaze said their target is to win the encounter at their home ground and dominate the top seat in the league standings. He added that they are not ready to disappoint their fans for the second time.
"We have rectified all the mistakes that made us against Ihefu FC and most of my players have recovered. We had fatigue due to a close fixture.
"We did not play well against Ihefu FC, who spoiled our unbeaten record. However, my players had a good rest and have promised to do their best in the match," said Kaze.
Tanzania Prisons head coach Patrick Odhiambo said he is confident of his players to register a victory in the encounter.
"We know that we are facing a tall mountain to climb, but we are taking the match seriously to bag all the three points," said Odhiambo.
Another expected tough game set for today is between Geita Gold FC and visiting Mtibwa Sugar FC at the Nyankumbu Stadium. The match is expected to be thrilling as each team will be targeting a good result.
Geita Gold FC are placed in the fifth position with 21 points from 14 matches while Mtibwa Sugar FC are placed sixth with 21 points from 14 matches respectively.
Geita Gold FC coach Fred Felix Minziro said all his players are in good shape and are ready to record a good result in the encounter.
Mtibwa Sugar FC head coach Salum Mayanga said they are targeting to bounce back after losing to Kagera Sugar FC in their previous match.