Yanga SC face challenging task against Mbeya City FC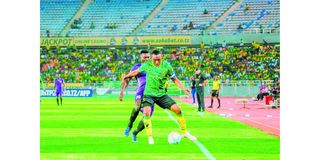 Summary
Another thrilling duels set for today will be at the Liti Stadium in Singida, where Dodoma Jiji FC will be hosting Namungo FC at 2pm and Ruvu will at 4pm be facing Singida Big Stars at the Uhuru Stadium
Dar es Salaam. The Mainland Tanzania NBC Premier League continues today at three different venues.
However, all eyes and ears will likely be directed at the Benjamin Mkapa Stadium in Dar es Salaam, where the defending champions Young Africans (Yanga) will be hosting Mbeya City FC at 6.15pm.
Besides the match, another thrilling duels will be at the Liti Stadium in Singida, where Dodoma Jiji FC will be hosting Namungo FC at 2pm and Ruvu Shooting will at 4pm be facing Singida Big Stars at the Uhuru Stadium.
The three matches are very important for all the teams in order to improve their positions in the league standings.
As Yanga target to widen the point gap against Azam FC, Mbeya City aim to end the unbeaten run of the Jangwani Street side. Yanga have so far tied with Azam FC with 29 points each, but Yanga lead the league table because of having a good average in goal scoring. Yanga have scored 21 goals and conceded six while Azam FC have scored 18 goals and conceded 11.
However, Yanga have advantage because they have played less matches than other teams.
Yanga have played 11 matches while Azam FC and third placed Smba have each played 13 matches. Mbeya City FC are placed sixth with 19 points from 13 matches and were the only team not to have been beaten by Yanga last season.
Last season, Yanga and Mbeya City recorded a barren draw in the first leg at the Benjamin Mkapa Stadium on February 5 and in the second leg held on June 25 at the Sokoine Stadium they drew 1-1.
The record shows that since Mbeya City's promotion to the league, they have managed to win only once out 18 matches while Yanga have managed to win 10 matches and recorded seven draws.
The situation make today's match to be the unpredictable and expected to be the toughest one.