Mary Kipeja: The woman behind Tanzania's historic Tea Auction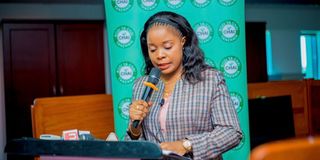 What you need to know:
Kipeja, at the helm of this historic achievement, embodies the spirit of this new era of empowerment, growth, boundless potential, a narrative of hope, resilience, and the power of visionary leadership.
The agricultural sector in Tanzania stands at a historical crossroads, embarking on a journey of transformative growth and regional influence.
The recent initiation of the first Tea Auction in Dar es Salaam is a remarkable achievement in Tanzania's agricultural narrative and it showcases progress, marking a significant stride towards economic empowerment and regional influence.
The transformative leap in agriculture must acknowledge the vital role of our President, Dr. Samia Suluhu Hassan.
Her unwavering commitment to agricultural advancement catalyzes that change, fostering a climate of innovation and progress.
Equally important is the recognition of those entrusted with implementing these visionary tasks.
Among them is Mary Kipeja, the Director General of the Tea Board of Tanzania (TBT), who stands out as a figure of monumental significance.
Mary Kipeja's role in establishing the first Tea Auction in Tanzania is a powerful statement in a sector which has traditionally dominated by male leadership.
Her efforts will reposition Tanzania as a regional hub for tea trading, promising extensive economic benefits and a new chapter in trade dynamics.
The auction aims to revolutionize the tea industry in the country. It focuses on reducing market costs, enhancing tea cultivation and management, and significantly cutting transportation costs.
This shift from reliance on the previously Kenya-dominated tea auction process to a local one symbolizes logistical efficiency and represents a considerable leap toward economic autonomy for Tanzania.
The impact of this initiative is multifaceted, extending beyond immediate financial gains.
It embodies the broader mission of the Tea Board: to empower local players across the tea value chain, including tea buyers, brokers, warehouse operators, and transporters.
Kipeja intends to ensure that every stakeholder in the tea sector benefits from this new era of localized trading.
Moreover, the tea auction is aligned with the government agenda to enhance the utilization of Dar es Salaam and Tanga ports.
This strategically aims to boost revenue and create job opportunities.
Kipeja has been instrumental in ensuring the seamless integration of port operations with the tea auction process, thereby maximizing economic benefits.
The leadership of Kipeja in this historic event is a profound source of inspiration, especially to women in Tanzania and beyond.
Her journey demonstrates that transformative changes in key sectors are possible and achievable with determination, strategies, and skills.
Her story breaks barriers and redefines possibilities, showing that female leadership can spearhead significant economic and social transformation.
The inaugural tea auction is about trading tea, but also a symbol of hope, opportunity, and prosperity.
It reflects a nation on the brink of significant change, ready to embrace new opportunities and challenges with confidence and vision.
As Tanzania continues on this path of agricultural and economic growth, the impact of leaders like Mary Kipeja cannot be overstated.
They are shaping the present and laying the foundations for a prosperous and resilient future.
Their leadership showcases the power of vision, determination, and ability to turn challenges into opportunities for growth and development.
Kudos to the whole team at the Tanzania Tea Board and the Ministry of Agriculture in general.
The successful launch of the first Tea Auction in Tanzania is a milestone, a turning point in the history of the agricultural sector.
It symbolizes the dawn of a new era, where innovation, strategic thinking, and inclusive leadership drive progress.
Kipeja, at the helm of this historic achievement, embodies the spirit of this new era of empowerment, growth, boundless potential, a narrative of hope, resilience, and the power of visionary leadership.
Her story will inspire generations to come and declare our country's readiness to take its rightful place on the global stage.
Yes, we have taken long to reach here, as we used to depend on Kenya to sell our tea. But they say, "Better late than never".