Strengthening health commodity supply chain through innovative logistic system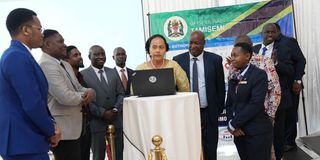 What you need to know:
A study conducted by HPSS project in 2011 showed that the Tanzanian public health system was marred by many challenges such as recurrent stockouts of essential medicines, inadequate supply chain management and irrational prescription of medication.
In a bid to strengthen Tanzania's healthcare infrastructure and optimize accessibility to essential medical supplies, the government has introduced Jazia Prime Vendor System (Jazia PVS), a ground-breaking logistical system.
Spearheaded by the Health Promotion and System Strengthening (HPSS) project, which is funded by the Government of Switzerland and implemented by the Swiss Tropical and Public Health Institute (Swiss TPH), this innovative solution is poised to reshape the nation's health commodities supply chain.
"The solution offers multiple benefits such as enhanced planning, quicker decision-making, cost-effective purchasing of medicines and health commodities, accountability, and ultimately improved healthcare delivery in public health facilities", said Ally Kebby, HPSS Project Manager.
Jazia PVS is designed to complement the Medical Stores Department (MSD), ensuring a continuous and uninterrupted flow of medicines and health commodities to public health facilities nationwide.
The approach is geared towards eliminating frequent stockouts of crucial supplies, bolstering the management and performance of the supply chain, and contributing to the effective utilization of medicines in public health facilities.
A study conducted by HPSS project in 2011 showed that the Tanzanian public health system was marred by many challenges such as recurrent stockouts of essential medicines, inadequate supply chain management and irrational prescription of medication.
Health facilities struggled to independently and timely procure medicines and supplies when MSD faced shortages, due to lengthy procurement procedures, inflated prices, inconsistent supplies, and quality control concerns.
In response to these critical issues, the Ministry of Health (MoH) and the President's Office - Regional Administration and Local Government (PORALG), in collaboration with the HPSS project, introduced Jazia PVS.
This complementary logistic system empowers health facilities to source undersupplied health commodities from competitively appointed regional suppliers of health commodities also known as "prime vendors".
The Jazia PVS guarantees reliable and comprehensive access to quality regulated medicine and medical items at advantageous prices by addressing gaps in medicine and health commodity availability.
A significant development in this endeavour is the recent Prime Vendor Management Information System (PVMIS) launch by Hon. Angellah Kairuki, Former Minister of State – PORALG.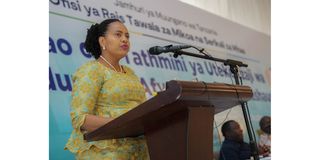 Integrated with the Government of Tanzania Health Operation Management Information System (GoTHOMIS), PVMIS marks a departure from the traditional paper-based approach, offering a swifter and more transparent means of managing logistic data for gathering, compiling, analyzing and ordering medicine and medical supplies.
"The launch of PVMIS will address challenges faced by the current paper-based system which is not only slow but also lacks transparency", said Dr. Ntuli Kapologwe, Director of Health, Community Development, and Nutritional Services at PORALG.
"We are so grateful to the Swiss Government for supporting the development of this innovative system through HPSS project", he said.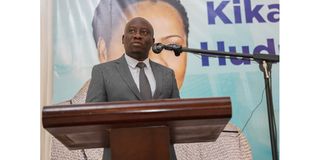 Developed as a Public Private Partnership model, Jazia PVS was piloted in the Dodoma region before being rolled out nationwide in 2018.
 "Now, Tanzania has this unique and innovative supply chain model of pooled procurement with prime vendors that is anchored in national laws and regulations", said Dr. Karin Wiedenmayer, Medicine Supply and Management Expert at the HPSS project.
"We are happy to be part of the Jazia PVS success story", she said.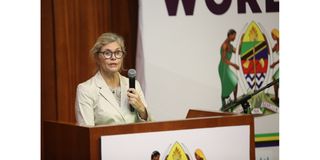 This complementary supply chain model has significantly bolstered the availability of health commodities at all levels of the healthcare system. However, the success of a well-designed supply chain is contingent upon its integration within the broader health system context.
With this in mind, the HPSS project has taken a comprehensive approach, focusing on building a strong foundation across all facets of the pharmaceutical system.
Besides supply chains, well-trained and motivated healthcare staff, effective tools and standard operating procedures, and transparent governance are vital components.
It is in this regard that Swiss TPH, through the HPSS project, supported the development of a one-year course for pharmaceutical staff at St. John's University of Tanzania. The Medicine Dispensers Certificate Course equips health workers with skills essential for optimal medicine management, fostering improved patient care and efficient utilization of health commodities, particularly in primary health facilities.
Furthermore, HPSS has been involved in fighting antimicrobial resistance (AMR) in Tanzania. In collaboration with MoH and the World Health Organization (WHO), the project facilitated the national AMR symposium and the creation of the National Action Plan on Anti-Microbial Resistance (NAP-AMR), a significant step towards tackling this burgeoning health concern.
Additionally, HPSS supported the Roll Back Antimicrobial Resistance Initiative (RBA Initiative), an organization focused on raising community awareness and educating schoolchildren on responsible antibiotic use.
"This integrated approach has strengthened the Tanzanian healthcare system and contributed to improving access to healthcare for the Tanzanian population", said Manfred Stoermer, HPSS Project Director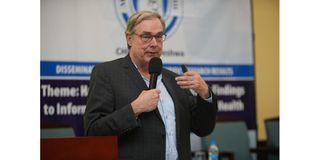 The systemic approach pursued by the HPSS project has identified and executed a range of innovations at various critical junctures within the health system.
HPSS project operational research initiatives have helped to provide a clearer understanding of challenges faced and potential solutions. They have also informed government policies and programs.
Jazia Prime Vendor System and its associated interventions stand as a testament to the government's commitment to enhancing healthcare delivery.
These innovative solutions are poised to leave a lasting impact on the country's health commodities supply chain and overall healthcare landscape.
Through meticulous planning, collaborative efforts, and a systemic approach, Tanzania is working towards a healthier and more prosperous future for its citizens.