High Court rejects ground handlers Transworld's application to sue TCAA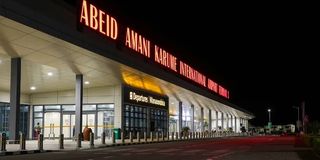 The High Court in Dar es Salaam has struck out an application in which Transworld Aviation, a ground handler at the Abeid Aman Karume International Airport was seeking permission to sue the Tanzania Civil Aviation Authority (TCAA).
The decision was handed down by Judge Leila Mgonya after agreeing with the objections of the Government, that the applicant should have first used alternative means before going to court.
 The company filed an application in the court requesting for permission to open a judicial review against TCAA's decision to approve the agreement between the Zanzibar Airports Authority (ZAA) and Dnata Zanzibar Aviation Services Company Limited.
On September 14, 2022, ZAA issued a notice that required all international airlines that intend to use Terminal Three to register with Dnata Zanzibar, a new ground handler.
 On September 6, 2022 TCAA issued a statement recognizing the agreement between ZAA and Dnata in the process approving a concession something that Transworld did not agree with claiming that the agreement between ZAA and Dnata was contrary to the laws.
It is on that note that Transworld opened a petition at the High Court, Dar es Salaam, requesting consent to open a review proceeding against TCAA and the Attorney General (AG).
 In the , it petition Transworld was seeking the court to review and reverse the decision of TCAA to recognize the agreement between ZAA and Dnata, claiming that it goes against the license granted by TCAA, which allows it to provide services at the airport without segregating terminals.
Before hearing the application, the Government raised the objection which the court in its decision read by Deputy Registrar Benezita Maziku has agreed with.
 "This court, after listening to the arguments of all parties, is satisfied that the arguments raised, that the petitioner should first use alternative means to find the relief he is requesting before coming to court.  Therefore, this court rejects this application with costs," said Maziku.
 However, the company's lawyer, Peter Madeleka, has said that he does not agree with the decision saying that it violates the law.
He explained that in filing applications for consent to open a judicial review process, the law does not compel first to use an alternative method and consent can be given without even hearing the opposing side.
 "This decision should not be left as it is because it has a huge impact.  What was ordered is not in the law.  So we will appeal to the Court of Appeal," said Madeleka.