Mwinyi to launch the reconciliation committee between ACT and CCM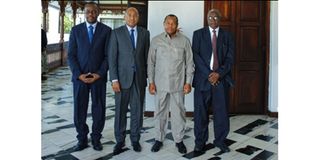 Unguja. Zanzibar's President, Hussein Mwinyi, is today set to launch the reconciliation committee between the ACT-Wazalendo Party and the ruling party Chama cha Mapinduzi (CCM).
A statement released by State House says, it is an important step in the continuation of dialogue and cooperation of the political parties that make up the Government of National Unity (GNU), in the interest of the people and Zanzibar at large.
According to the director of Presidential Communications, Mr Charles Hilary, the event is to take place at 1pm at State House.
"At the launch, President Mwinyi will give terms of reference that will explain the plan of CCM and ACT and the next steps to be taken by the government," the statement reads in part.
On May 18, 2023, President Mwinyi met and held talks with ACT-Wazalendo leaders; national chairman, Juma Haji Duni, deputy chair, who is also the Zanzibar First Vice President, Othman Masoud; and the party leader, Mr Zitto Kabwe .
The committee, among other things, will be responsible for discussing and making recommendations on the implementation of the report of the task force which was formed following the political parties council meeting that discussed specific areas concerning Zanzibar in October, 2022.
In the report of the committee that was drafted by the task force, led by its chairman, Dr. Ali Ahmed Uki, some of the recommendations include challenging of presidential election results in court, set up a proper structure of the Government of National Unity, and an independent Electoral Commission.