NIT, Zanzibar maritime body agree to exchange expertise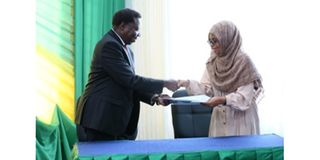 What you need to know:
The memorandum of understanding will see the National Institute of Transport and Zanzibar Maritime Authority exchange knowledge and expertise on maritime-based programmes
Dar es Salaam. The National Institute of Transport (NIT) and the Zanzibar Maritime Authority (ZMA) have signed a Memorandum of Understanding (MoU) that will see them exchange knowledge and expertise on maritime-based programmes.
The MoU also opens doors for professionals seeking careers in the industry.
Speaking during the MoU signing ceremony in Dar es Salaam yesterday, the ZMA director general, Ms Sheikha Mohamed, said part of the agreement involves training staff and students through an exchange programme between the two government institutions.
"In Tanzania, the NIT is the only institute that provides appropriate training on all modes of transport including aviation, maritime, railway and road. This MoU will help us to bring our staff and students here through the exchange programme," she said.
Earlier, the NIT Rector, Prof Zacharia Mganilwa, said apart from providing a new opportunity for the NIT and ZMA to improve knowledge and expertise in maritime, the MoU also seeks to improve the curriculum in maritime courses for both institutions.
It also gives a room for staff and students from NIT and ZMA to collaborate in training and research on maritime programmes.
Meanwhile, in an effort to promote the blue economy agenda, the NIT has also introduced a Diploma course in Ship Building and Repair course; a Bachelor's Degree in Shipping and Port Logistics Management as well as a Bachelor's Degree in Naval Architecture.
NIT has secured land in Lindi where it will build its School of Marine.