Govt bans Tanzania Daima newspaper for 90 days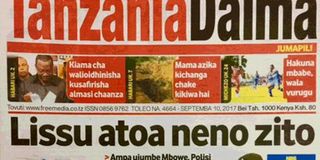 Dar es Salaam. The government has banned a Swahili tabloid Tanzania Daima for 90 days for allegedly publishing false information.
The ban was imposed by the government spokesperson Dr Hassan Abbasi, doubles as director of Information Services.
"The government has banned Tanzania Daima from publication for continuously publish false information," he posted on his Twitter account.
Later the information services department released a statement indicating that the tabloid was banned after it published several stories with fals information.
The stories include the one which was carried on its Sunday with the headline 'Asilimia 67 ya watanzania wanatumia Arvs' (literally for 67 per cent of Tanzanians use ARVs).
The newspaper acting editor, Mr Martin Malera told The Citizen in a telephone interview that the newspaper has received official communication from the government.
"We have received a letter at 3:36pm today informing us on the decision," he told The Citizen.
Tanzania Daima becomes the fourth local newspaper to be banned from publication this year. Others are Mawio, Mwanahalisi and Raia Mwema.