Who will benefit from East Africa's oil pipeline?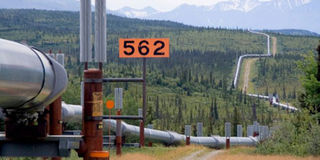 Summary
Extractives stakeholders differ in opinions over revenues sharing between the host governments, Uganda and Tanzania, over EA crude oil pipeline as the mega project execution is on verge of beginning.

Dar es Salaam. A hot debate emerged today, on Wednesday, November 14 as extractives industries stakeholders differed in view over which country between Uganda and Tanzania would benefit more from the planned $3.5 billion East Africa Crude Oil Pipeline (Eacop) upon its completion.
The stakeholders from Uganda, Kenya, Tanzania and the United States were in the city for a two-day meeting held yesterday and today to discuss the crude pipeline development, commercial arrangements and other aspects related to the pipeline manufacture.
The meeting was convened by the Oxfam in Tanzania.
"Both countries stand to benefit if they work together because they are in position to negotiate better terms with the oil companies. If they fail to work together, there is a high risk they will both lose," said Mr Haggai Matsiko, the Investigations Editor of Uganda based-- The Independent magazine, who moderated at one of the sessions.
For his part, Mr Paul Bagabo from Natural Resources Governance Institute (NRGI) argued that Tanzania would benefit through various means during the pipeline construction phase, citing that with likes of gas discoveries found in the country, Tanzania's power utility would be in good position to negotiate with the pipeline company and secure power supply tender.
Meanwhile, Mr Thabiti Jacob, a researcher, said that Tanzania would benefit less on the pipeline, arguing that the country has given out fiscal incentives that favour Ugandan side.
"A 20-0year depreciation tax holiday and zero Value Added Tax are example of incentives that favour Uganda," he said.
The heads of host governments on May, 2017 at the East African Community (EAC) summit agreed that they would waive VAT for three years of the pipeline construction phase, among other agreements.
The 1,445-kilometre pipeline is planned to have the capacity of carrying 216,000 barrels of crude oil per day upon completion.
"With the proposed ownership structure for the Eacop, the companies stand to benefit more from the pipeline since they will be majority shareholders (75 per cent)," said Gerald Byarugaba, Extractive Industries coordinator of Oxfam in Uganda.
He added "Uganda and Tanzania on the other hand will get an equivalent of their shareholding in the project (25 per cent). This is per the Intergovernmental Agreement for the project, signed in May 2017,"
Moreover, the pipeline construction cannot start until the two host states agreed certain things, as the negotiations of Host Government Agreements (HGA) between the pipeline company and the two governments are still under development.