Sauti za busara 2019 knocking at the doors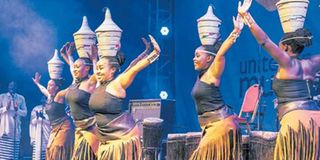 Summary
The festival will host 44 groups and 400 musicians on three different stages in four nights at the Ngome Kongwe in February 2019

The 2019 edition of Sauti za Busara could be some four months away but has released the festival line up which features some illustrious performers from across the African continent.
Every year in February thousands of music fans from across the globe converge at Stone Town's Old Fort to experience a unique taste of African music as hosted by Sauti za Busara.
Showcasing emerging talents alongside established artists, as always the festival highlights music with cultural identity.
The festival is listed by BBC, CNN and Songlines magazine as one of Africa's top music events which is also widely acclaimed as 'the friendliest festival on the planet'.
Having received over 500 entries, organizers admit that it was not an easy decision reaching the final verdict of the 44 groups that will grace the three stages on four nights under the African stars.
"During 2018, we received more than 500 artists' applications, from all over Africa and beyond. Early in August, the festival selection committee rigorously reviewed all submissions received. We try our best to curate a balanced, diverse and dynamic programme that will be sure to touch, move and inspire our local and international audiences," says festival director Yusuf Mahmood.
According to Yusuf, Due to budget constraints, they do not regularly have major names as headlining artists.
"Thankfully, we do have a loyal and enthusiastic audience that trusts the festival will be energising and inspiring, and they will see many fantastic artists they had never heard of previously," he adds.
The three stages at the Forodhani Gardens, The Amphitheatre and the main stage at the Mambo Club are set to witness are set to come alive with the sounds of Mokoomba from Zimbabwe, the legendary Afrigo Band from Uganda, as rapper Fid Q will be in the audience to represent the local hip hop .
Also on the list is Fadhilee Itulya from Kenya, Ifrikya Spirit from Algeria, Rajab Suleiman and Kithara from Zanzibar, Tune Recreation Committee from South Africa, and Ithrene from Algeria.
The success of other Moroccan groups such as Bob Maghrib that have graced the festival will probably be replicated by Hoba Hoba Spirit, M'Toro Chamou from Mayotte/Reunion, Trio Kazanchis from Ethiopia, and Faith Mussa from Malawi.
The illustrious list also includes Shamsi Music from Kenya, Sofaz from Reunion, Dago Roots from Reunion, Lydol from Cameroun, S Kide and Wakupeti Band from Tanzania, and Tausi Women's Taarab.
Others are Mkubwa na Wanawe Crew, Damian Soul, Wamwiduka Band all from Tanzania, and Jackie Akello from Uganda among many others.
Though they have released these names the organizers maintain that there are m ore names that are yet to confirm participation.
Tanzania has had a problem with female artistes maintaining it at the top, but it looks like it is not an isolated problem.
According to Yusuf Mahmoud they receive a relatively a small number of applications from female artists who play quality original African music.
At last year's edition some of the female artistes included Saida Karoli, Grace Matata Maia von Lekow, Mangwenya Diana Samkange, and Fatma Zidane among others
The unique and magical experience with African music, which is 100 per cent live has for the past 15 years been one of the driving forces that keeps audiences returning to the festival.
"Almost half of our audiences return year on year. Not only from around East Africa; we also see people visiting regularly from across southern Africa, West Africa, Europe, USA , Canada, Japan and even from as far as Australia," says Yusuf.
Organisers say Sauti za Busara contributes hugely to the economic growth in Zanzibar whilst stimulating alternative approaches to tourism.
"Visitors to the festival are by nature open and respectful towards local music and cultural diversity. Festival audiences typically enjoy meeting local people, tasting local food, staying in locally run guest houses, etc., thereby impacting greatly on the grassroots population. Research shows each year, visitors to the event contribute in excess of $7.2m to the local economy," he says.
As a festival that has grown enormously in its 15 years of operation, the event attracts media and music professionals from across Africa, Europe and beyond, thereby providing a unique platform for East African musicians to share their music with the world.
"Each year a number of artists who grace the Sauti za Busara stage are invited to tour and perform at festivals in different parts of the world. Artists more likely to be invited are those who are unique, expressive and playing music with identity", says Yusuf.
Here paths intertwine, business deals are struck, collaborations are sealed and careers are taken to greater heights, as talents are spotted by other festival promoters.
"This is a space where all kinds of arts professionals meet, from festival directors to music producers, managers and distributors, they all come to Zanzibar in February to check the pulse of the African music scene", says festival director Yusuf Mahmoud.
He adds: "It is not just an event where the festival performers attend, but even artistes who are not on the line-up come to learn from one another and link up with industry bigwigs to set up deals for the coming months, even long after the festival is done."