Anti-graft body hunts for ex-Pride Tanzania boss over missing Sh1.8 billion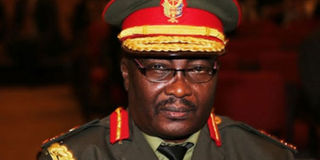 What you need to know:
Addressing a press conference on Friday in Dar es Salaam, the deputy director of PCCB, Brigadier General John Mbungo, said that a suspect, who was the managing director of Pride Tanzania – a local microfinance institution, had allegedly ran away with at least Sh1.8 billion of the organisation. He is suspected to have escaped to the US.

Dar es Salaam. Tanzania's anti-corruption body announced on Friday, October 26, that it is hunting for the former managing director of Pride Tanzania over allegations of swindling Sh1.8 billion of the collapsed microfinance institution.
The Prevention and Combating of Corruption Bureau (PCCB) claimed that former boss of Pride Tanzania and his colleagues committed the fraudulent payments to service providers and prepared salary payments in non-compliance procedures and subsequently took all funds and used them for personal gain.
The deputy director general of PCCB, Brigadier General John Mbungo, named some of the companies which were paid in various periods between 2015-2017.
"He allegedly escaped from the country soon after PCCB investigations began in 2018 and with the existing information, he escaped through the Namanga border and ran to the US," he said, adding that some suspects in the investigations have already been questioned.
Pride Tanzania is a micro finance institution that was involved in provision of credit to small and micro entrepreneurs in Tanzania. It earned its first capital of about $4,000 from Norway through Norad in 1993 when it started its operations with its first branch and head office in Arusha.
"We call upon other NGOs to ensure that funding provided for Tanzanian development is used as required," he warned.
PCCB is also looking for a loan officer with the Dar es Salaam University College of Education (Duce) over allegations of forging documents, engaging in robbery, as well as committing infringement of public financing.
The officer allegedly disappeared after diverting money from the Higher Education Students' Loans Board (HESLB).
His colleague, however, was arrested and grilled.
"On 12 February, 2015, the two, who were accountants of Duce, prepared very valuable cash check, which was derived from HESLB and then paid the money into non-targeted accounts," said Mr Mbungo.
The PCCB boss also said that they have been monitoring the implementation of the tax collection through the Electronic Fiscal Devices (EFDs) at Kariakoo in Dar es Salaam and observed presence of tax evasion by local business operators.
"This is illegal and its impact is to deny the government revenue that will be used in various development projects," he said.
"PCCB will continue to monitor this issue in order to ensure that the targeted tax is collected and utilized in promoting the economy and enhancing national development," he said.