Songas: Gas best for industrialisation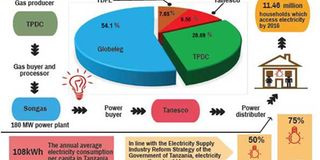 Summary
In the last 13 years, Tanzania Petroleum Development Corporation (TPDC) estimates that the country saved Sh23.14 trillion by using natural gas in both industrial production and energy generation.

And now, Songas managing director Nigel Whittaker says in an interview that more investment is needed to utilize the potential of the natural gas in industrialization drive implemented by the government.

Dar es Salaam. The use of natural gas which is replacing heavy oil in industrial production and electricity generation has reduced operational costs, indicating that gas could propel the industrialisation drive.
Tanzania Petroleum Development Corporation (TPDC) estimates that Tanzania saved Sh23.14 trillion by using the domestic natural gas in industrial production and energy generation, with Songo Songo gas fields alone helping the economy to save $5 billion (Sh11 trillion) in the last 13 years.
Songas – an independent power producer that generates electricity using gas from the Songo Songo Island gas fields - stresses that use of the natural resource will reduce operational costs among industries and eventually fuel the industrialisation drive.
"As Tanzania commits towards driving the industrialization agenda, it is high time we invested heavily on natural gas as the core for turning the dream into a reality," said Songas Limited managing director Nigel Whittaker in an interview.
The company, which is majority owned by British energy firm Globeleq, contributes 180 megawatts to the national grid and says its electricity cost has been down, averaging Sh135 per kilowatt-hour (kWh), including capacity and energy charges.
Tanzania Electric Supply Company (Tanesco) sells electricity at Sh270 per kWh currently.
Other shareholders of Songas include TPDC, Tanesco and Tanzania Development Finance Company Ltd, which are all owned by the government of Tanzania.
Songas supplies 21 per cent of the country's electricity from the Ubungo Power Plant (UPP) since 2004 when it became fully operational. It bought natural gas worth $103 million (Sh232.7 billion) from TPDC during the period.
Going by TPDC data, the demand for natural gas countrywide has doubled from a total of 145 million cubic feet (mcf) per day in 2016 to 300mcf last year.
The government's share of revenues from Songas, whose investment capital stands at $321.6 million (about Sh726.8 billion), is over 60 per cent through taxes and dividends.
"With Tanzania's growing demand for electricity, Songas is working with key sector players and is pursuing further opportunities to continue development of the power sector as well as power industrialisation," notes Mr Whittaker.
"As Tanzania drives itself to achieve a higher level of industrialisation through additional electricity supply projects, the sector needs proven, transparent and positive partners to reduce sectoral costs that will maximise the delivery of generation projects."
The company wishes to expand UPP to 250 MW should the government needs more power.
He says the expansion, which can be done within a year, could cost $60 million (Sh135.6 billion). "Tanesco decides if we generate or not, but Songas must be available so that our revenue does not suffer," says Mr Whittaker.
The company, which started paying dividends to the government in 2012, has since that period to last year issued Sh75 billion for the purpose.
"As Songas is dedicated to long term and mutually beneficial partnerships with all stakeholders, it is the exact type of partner needed to assist the government in developing more affordable power projects," he says.
Using gas from the Songo Songo island gas reserves, Songas also processes and transports natural gas to other power generators and industrial customers.
To address the challenge of skills gap in the job market, Mr Whittaker said, the company runs a-six month internal programme, whereby every six months they train six interns from universities. It has in the past six years trained a total of 80 interns.
Tanzania, which is East Africa's second largest economy, has been plagued with frequent power outages in the past, prompting the government to seek for alternative sources of energy besides hydroelectric power.
Industrialists have been complaining of electricity challenges such as cost, supply and voltage issues.
"For now, the main issue is reliability of electricity. We have seen some improvement but the power is not that much reliable for industrial operations," said Mr Akida Mnyanyika from the Confederation of Tanzania Industries (CTI).
Why alternative source of energy
The TPDC acting managing director, Mr Kapuulya Musomba, says alternative energy sources for production of electricity is vital for effective supply of power.
There is need to encourage the growth of the power sector and eventually achieve industrial development and economic growth, he says.
He says natural gas has to a great extent reduced the country's dependence on heavy furnace oil, diesel, petrol, jet fuel and others in operating machinery.
"As it happens, about 55 per cent of electricity in the national grid is produced by gas," Mr Musomba told The Citizen.
He was seconded by Mr Whittaker who said: "We don't need to rely excessively on hydro-electric power as it is adversely affected by changes in weather conditions."
Mr Whittaker says, without explaining in depth, that if the power sector is to prosper, the government should ensure clear a regulatory framework and policies to remove some existing confusion.
He also called for truly independent Energy and Water Utilities Regulatory Authority (Ewura) that should not be reporting to one of the government's ministries.
"As it stands, it is difficult for the regulator to have equal balance when it comes to treating producers, government and customers," worries Songas boss.
"We need government's political will to Independent Power Producers (IPP). Not all IPPs are bad. Some of us scrupulous."
In a fresh bid to improve business environment, on May 2018, the government came up with a blueprint in a view of setting up the stage for a raft of amendments to laws and regulations governing the conduct of businesses
The document is meant to address the challenges, among others, policy unpredictability, multiplicity of taxes, red tape. Private sector is of the view that, quick implementation of the blueprint, would attract more investors to come and invest in the country.