Tanzania to use Aflasafe to tame aflatoxin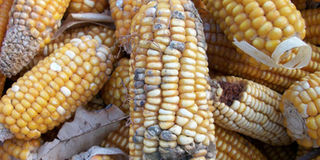 What you need to know:
Tanzania is one of the countries where the International Institute of Tropical Agriculture (IITA) has made progress in technology transfer in taming the crop pests

Arusha. Scientific trials against aflatoxin, a carcinogenic fungus found in food crops notably maize, have proved successful in Tanzania.
Trials carried out in maize fields in Morogoro, Dodoma, Manyara and Mtwara regions indicate that the toxin can be tamed through the application of Aflasafe, a natural solution of four fungal strains.
About 400 tests were conducted in 2016/2017 in the four regions through the support of the International Institute of Tropical Agriculture (IITA) proved successful to stem the toxic fungus.
"A decrease in aflatoxin upwards of 85 per cent in the two years that Aflasafe was tested on the farmers' fields was noted," the organization revealed here in a statement.
Following the positive results, Aflasafe solution has now been registered by the Registrar of Pesticides, making Tanzania one of the few African countries where IITA has made a breakthrough in the application of the technology.
Efforts are now underway to commercialize local production and distribution of the solution "to efficiently and rapidly reach all corners of Tanzania", said the organization's communication consultant Catherine Njuguna.
She revealed this during a signing of an agreement between IITA and the Arusha-based A to Z Textile Mill granting the latter a five year contract to produce the solution for application in the farms.
Under the deal, IITA will provide business development and technical assistance to A to Z under the Aflasafe Technology Transfer and Commercialization Initiative.
She said IITA has conducted Aflasafe TZ01 market demand, profitability of manufacturing and distribution and identified all pre-requisites for successful commercialization.
Tanzania, Ms Njuguna explained, now becomes the fourth country in Africa after Gambia, Nigeria and Senegal in the transfer of Aflasafe products and technology application.
"We are confident that we will meet the targets. Aflasafe will benefit from A to Z's extensive distribution network for our agricultural products", said the firm's marketing manager for agricultural products Julius Nyabicha
"Our network comprises more than 200 agro-dealers throughout the country,'' he observed.
The solution was developed by IITA in partnership with the ministry of Agriculture, with funding and technical support from USAID–Tanzania through the United States Department of Agriculture.