Author talks about her love for writing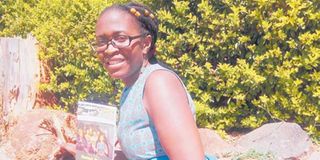 Summary
Writing is a hobby to me, it is a past time as much as reading is, and gardening. I write also to vent out anger and frustration. When I find myself in an uncomfortable space I write but what I would write in most cases would have nothing to do with the situation which has made me angry or uncomfortable.

Tsitsi Nomsa Ngwenya is a writer from Matobo, Southern Zimbabwe. She is also a mother, a town planner by profession and a real estate consultant. She operates Town Planning Consultancy in Harare. Success Magazine interviewed her about her love of books, one of them is the novel titled 'Yesterday Footprints.'
Can you tell us a little bit about your books?
I started writing in 2009 after the fading of the Zimbabwean dollar, as we waited for the introduction of multi-currency system. There was nothing to do all day as operating a business had become impossible. Naturally I read a lot. I wrote the title story 'The Fifty Rand Note' and three other stories in my collection from my real estate office which was located in Harare Central Business District. As I wrote on paper I gave my secretary each complete page to type but instead, she read the stories with other colleagues secretly. When I discovered what was happening and the fact that they were waiting for the next page, that alone gave me the courage to continue writing. I wrote and wrote. That was the beginning of my career in writing.
Writing is a hobby to me, it is a past time as much as reading is, and gardening. I write also to vent out anger and frustration. When I find myself in an uncomfortable space I write but what I would write in most cases would have nothing to do with the situation which has made me angry or uncomfortable.
Which novelist do you admire? Any East African writer you admire?
Yes, I admire Ngugi wa Thiongo, Agoro Anduru, Ismael Mbise, Penina Mlama, Binwell Sinyangwe and Mark Behr.
Binwell gives hope to a seemingly hopeless situation in 'Cowrie of Hope', really moving story of hardship and corruption, an African festering wound at the moment. Tanzanian born Mark Behr's 'Smell of Apples' shows that we cannot always impose our beliefs on those who look up to us . The character in the story is an 11-year-old Marnus Erasmus who refuses to accept that black people are bad because he has not seen it, his encounter with bad people has been positive. Mark Behr displays a fearless approach in his narration despite his pigment of skin, which is one of the things we require as writers, honesty.
Ngugi remains one of my most admired writers, he observes life in microscopic lenses, 'Petals of Blood' made me see the injustices suffered by African people in their respective countries are almost similar.
I also admire Yvonne Vera, Chimamanda Ngozi Adiche, Zukiswa, Wanner, Dambudzo Marechera, Charles Mungoshi, Bessie Head, Sibusiso Nyembezi and many others.
How many books have you written – novels, short stories and poems?
I have two published books but two of the short stories were already published by University of South Africa Journal (Imbizo) in their first and second edition respectively in 2014. I have two novels in English, 'Yesterday Footprints' to be published next year and another the following year.
Also, I have two complete manuscripts of Ndebele novels awaiting publication. I wrote collection poetry in 2012, 'Silent Drumbeat from Ematojeni' some of the poems have been published in different platforms in Zimbabwe.
Where can someone get a copy of your work? Do you supply the East Africa readers?
My first novel 'Izinyawo Zayizolo', a Ndebele novel was published in Harare in 2016, because of its language it is limited to the local readers and some parts of South Africa. The novel is only available in Zimbabwe, in local bookstores. 'The Fifty Rand Note' was published in July 2017. We are still supplying bookshops across the continent and the world as a whole. Yes, Tanzania will be supplied too before the end of year and all other East African countries. It will be also be available online before end of the year.
Describe your normal working day
To me, a normal working day is a day I can count my achievements for the day. I am a person who does not want time to get by without any production.
As an author what else do you do connected to your books and other activities?
I engage myself in writing issues, discuss books with other writers and readers, sometimes I read to pupils, encouraging them to read. I also attend writing workshops, public reading tents and other events associated with books and writing.
What is the next step in your writing career?
My next step in my writing career would be to teach Creative writing, but because I studied Civil Engineering, I also want to study English and Literature first.
How can a new writer get started?
A new writer can get started by starting to write. It is sad and unfortunate to know that we have many authors who move with the world changing stories in their hearts and minds.
What inspired you to write short stories?
I wanted to tell stories with many different themes but could not really craft them into one book. So I decided I would write short stories.
Do you have any advice for authors looking to stand out from the crowd?
Write what you know because we all have different stories to tell. Write what you see and how you see it. Also our stories must be convincing, fiction is the truth told with different setting and change of names. I believe there is no story which can be complete fiction. Also our style of writing counts, we must try and be creative.
Writers often have to face rejection before getting published. Did you? If so, how did you cope with it?
Yes, I faced rejection many times, but because I knew my stories were worth telling I did not give up. I kept on sending my manuscripts to different publishing houses. I also read my stories to writers and scholars and we discuss the characters and plots. By so doing my work improves.
Finally, what is one piece of advice you would like to share with other writers?
Writers, write. Let's share what we see and hear. Let us share what we feel about what we see and hear with the world.